Looking for a special way to show your child's teacher that you care? Looking for a holiday gift? We've got ideas. Some are sentimental, some are funny, and some are downright practical, but they'll all surely be appreciated! When you're thinking about the best teacher gifts, you can either choose something they can use in their classrooms or something they can enjoy during their much-needed time off. Our list of the best gifts for teachers includes a terrific selection of both, with options to fit any budget.
Quick tip: Check your school's gift policy before giving; some prohibit homemade treats and/or gifts over a certain monetary value.
1. Thank-you note
What gifts do teachers really want? Most teachers we know say they appreciate a handwritten thank-you note over just about anything else. Truly, nothing beats it. You don't need to get fancy, but if you want to add a little something extra, you could buy one of these awesome greeting cards for teachers or use these printable thank-you cards for teachers to express your message.
2. Personalized stationery
This notepad will make your child's teacher smile, knowing that you took the time to personalize it for them. This is also perfect for them to write little encouraging notes to their students and colleagues.
Buy it: Personalized Notepad at Etsy
3. Gift card
When we ask our We Are Teachers group on Facebook about the best gifts for teachers, the number-one answer is always the same: gift cards. Amazon and Target are reliable choices, plus check out our full list of favorite teacher gift cards here. Pair it with a thank-you note to make it extra special!
Buy it: Etsy Gift Card at Etsy;  Amazon Gift Card at Amazon; Target Gift Card at Target
4. Personalized tote bags
Since teachers often need to carry papers and other school supplies, what better gift than a tote bag or two? We love the personalization option.
Buy it: Personalized Tote Bag at Etsy
5. Fiddle fig plant
Everyone loves a little plant (or 10 of them) in their classroom. I have one plant on my windowsill and it is basically our class pet. My students even gave it a name. This one is a live plant and comes in a few different adorable pot options.
Buy it: Fiddle Fig Plant at Amazon
6. Personalized key chain
The one gift that every teacher will actually use! I'm sure that they all have at least one set of keys to get them in their room, all of their cupboards and drawers, and into their cars. Dress up their keys with this personalized leather key chain.
Buy it: Personalized Key Chain at Etsy
7. Stanley Quencher H2.0 Tumbler
OK, so most teachers already have a pretty good selection of water bottles. But does yours have a really good one—one that will keep their drinks hot or cold all day? If not, they'll love a Stanley Quencher H2.0., which is the "it" tumbler of the moment. The 40-ounce size is big enough to avoid frequent refills. Plus it fits easily in vehicle cup holders, and the handle makes it easy to carry. Grab one in your teacher's favorite color for the perfect gift.
Buy it: Stanley Quencher H2.0 at Amazon
8. YETI Rambler 14-oz. Insulated Mug
Teachers rarely get to sit down and enjoy a whole cup of coffee in peace. That's why insulated mugs are must-have teacher gifts. This YETI mug is a top-notch choice, keeping your brew hot for as long as it takes you to get to the bottom. It holds enough coffee to get a teacher from first bell to at least their lunch break!
Buy it: YETI Rambler 14-oz. Insulated Mug at Amazon
9. Ember Temperature-Control Smart Mug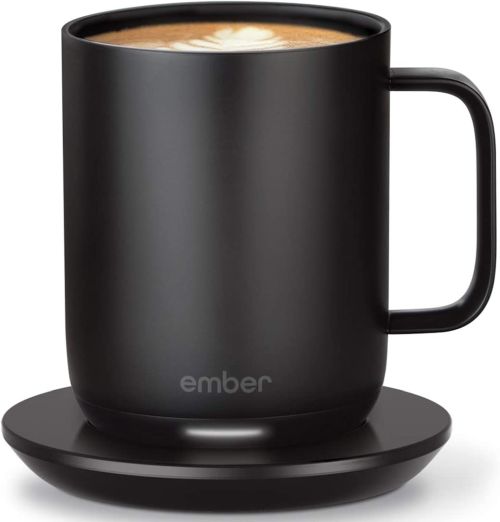 The best gifts for teachers don't have to be pricey, but it doesn't hurt. This is definitely a bit of a splurge, but the Ember coffee mug not only keeps your coffee hot, it maintains it at the exact right temperature. Set your desired temp using the app, and Ember will ensure your coffee or tea is perfect from the first sip to the last.
Buy it: Ember Smart Mug at Amazon
10. Bracelet
We love that this bracelet set is equally cute and affordable. Bonus: It will make your child's heart swell with pride when they see their beloved teacher wearing it!
Buy it: Teacher Bracelet at Amazon
11. Keurig K-Mini Coffee Maker
No need to worry about heated or insulated mugs when you can brew a fresh cup right in the classroom. The Keurig K-Mini is one of those teacher gift ideas they'll be thanking you for over and over again. (Check out more of our coffee station ideas.)
Buy it: Keurig K-Mini Coffee Maker at Amazon
12. Fujifilm Instax Mini 11 Instant Camera
This gift is at a higher price point but we think it will be greatly loved and used. My students love to see their artwork and blackout poetry around the room. I think adding pictures of fun moments in the classroom around the room would be such a nice personal touch to any teacher's classroom. Then when the year is over, you'll have photographic proof of the memories made that year.
Buy it: Fujifilm Mini 11 Instant Camera
13. Cozy blanket
This cozy blanket has thousands of positive reviews. It comes in 13 colors/prints and is a perfect gift all year round. It's one of those gifts you'll want to order two of so that you can keep one too!
Buy it: Cozy Blanket at Amazon
14. Shower steamers
Teachers will love these shower steamers that make them feel a little more excited about their regular routine. These shower steamers have great reviews and offer a collection of calming scents to allow for relaxation.
Buy it: Shower Steamers at Amazon
15. L'Occitane Hand Cream Classics Trio Gift Set
Teachers tend to get a lot of bath and body products, so if you're going to go that route, pick a high-quality, luxurious option so your gift will stand out. L'Occitane makes some of the best hand cream around, perfect for reviving hands that are dry and cracked from using sanitizer all day long. Buy this set and give it as-is, or split it up and pair each one with a gift card for three separate teacher gifts.
Buy it: L'Occitane Hand Cream Classics Trio Gift Set at Ulta Beauty
16. Ventured Living Hand Sanitizer Holder Set
Speaking of hand sanitizer, it's clearly a classroom must-have that's here to stay. Teachers can clip these holders to their lanyard or belt, refilling as needed. They come in a cute floral pattern too. Here's what one reviewer had to say: "I'm a teacher and this product is perfect to keep on my backpack. I can easily use it entering/leaving school, with peace of mind for sanitation. We are buying more for my teacher friends and family."
Buy it: Ventured Living Hand Sanitizer Holder Set of 2 at Amazon
17. A case of their favorite beverage
This is an affordable but highly appreciated gift. One year, I was given a case of Diet Coke and I was eternally grateful. Pair with a thank-you note and your child's teacher will treasure you forever. Not sure what their favorite beverage is? Ask your child what drink they see on their desk after lunch. My kids definitely know mine.
Buy it: Dr. Pepper Zero Sugar at Target
18. Desk organizer
Teachers have a lot of office supplies so give them a gift to store all of them. This modern design is sleek and functional.
Buy it: Teacher Desk Organizer at Amazon
19.  Teacher shirt
This shirt is perfect to wear for jeans day. It comes in 10 different colors and has a fun retro vibe. This gift alone will make your child's teacher smile, or pair it with the earrings later on this list for an added bonus.
Buy it: Teacher Shirt at Etsy
20. Paper Mate Flair Pens
Teachers LOVE pens. They're intensely loyal to their favorites, and for many, Flair pens top the list. This set is one of our best gifts for teachers thanks to the cool colors and yummy scents. This reviewer agrees: "A magical set every teacher should have on their desk or at home!" (Find more favorite teacher pens to gift here.)
Buy it: Paper Mate Flair Scented Felt-Tip Pens at Amazon
21. Personalized notebook
I have a group of students who gifted me a notebook this year. It meant so much to me that I wanted to use it for something special. I decided to write down funny moments that happen throughout the years and give it to them for a graduation gift. This one is adorable, can be personalized, and is less than $15.
Buy it: Personalized Notebook at Etsy
22. Coolbros Elephant Pencil and Phone Holder
Looking for thoughtful small teacher gifts? This elephant phone stand might just fit the bill. This is one of the best gifts for teachers because it's cute, practical, and so much fun. It comes in several different patterns too, so you can choose one that suits your favorite teacher's personality.
Buy it: Coolbros Elephant Pencil Holder With Phone Holder at Amazon
23. Godiva Truffles
Coffee and chocolate are the two main teacher food groups. They'll love any chocolate you give. But if you really want to make them feel special, splurge on a gourmet option like Godiva. These are perfect for savoring slowly while binging Netflix, or rewarding themselves after turning in their final grades on time!
Buy it: Godiva Chocolatier Patisserie Dessert Truffles at Amazon
24. Hair clips
Keep your child's teacher trendy with these hair clips. When it's fourth period on a Friday and that hair has to go up, give them this option to make them feel put together.
Buy it: Hair Clips at Amazon
25. Scotch PRO Thermal Laminator
Want to become a teacher's hero? Gift them their own personal laminator! This model from Scotch with Never Jam technology is one of our favorites. Here's what one teacher thinks: "LOVE! It surpassed my expectations. It's nearly silent! … It also laminates fairly quickly! I would absolutely recommend."
Buy it: Scotch PRO Thermal Laminator (TL906) at Amazon
26. A sweet treat
These brownies can be ordered on and delivered by Amazon! A basket full of a variety of delicious brownies will surely make your child's teacher smile.
Buy it: David's Assorted Brownie and Crumb Cake Basket at Amazon
27. AstroAI Mini Fridge
Help teachers make the most of their much-needed break time by saving them a trip to the teachers lounge fridge. This little model is just big enough to hold some fizzy water and yogurt, exactly what teachers need for a midafternoon pick-me-up. (Check out more terrific mini-fridge options here.)
Buy it: AstroAI Mini Fridge Thermoelectric Cooler and Warmer at Amazon
28. Clever magnets
These magnets are perfect for your child's English teacher. They can use them at school or at home. Each time they use these to hang up a paper, they'll think of that special student who gifted them this thoughtful and practical gift.
Buy it: Grammar Correction Bottle Cap Magnets at Etsy
29. Amazon Echo Dot Smart Speaker
Smart speakers with voice search built in have so many uses in the classroom. These little gems are so affordable that they make great gifts for teachers. The Amazon Echo Dot is one of our favorites, since it's so easy to use and coordinates with other Amazon products.
Buy it: Amazon Echo Dot at Amazon
30. This Day in History Calendar
Page-a-day calendars make terrific small teacher gifts. They're fun for the teacher, plus it gives them something to share with their class each day. It works for any grade and any subject.
Buy it: This Day in Military History at Amazon
31. Personalized teacher library stamp
Teachers build their classroom libraries with loving care. Help them keep their selections from disappearing with a personalized stamp like this one. Real teacher review: "This stamp is very sturdy. I have had other custom stamps fall apart after a long session of classroom library building, but this is still going strong." (See more teacher stamps we love here.)
Buy it: Self-Inking Teacher Library Stamp at Amazon
32. Custom photo collage frame w/LED light
This may be hard to get, but I had a picture given to me with my students and I really love it. It made me realize how rare it is for me to get photos of my students while they are in class with me and so I treasure the thought that went into getting the photo and then framing it. This one is extra adorable with the modern look and the LED light. Add your teacher's favorite quote, a quote about teaching, or just their class and year.
Buy it: Custom Photo Collage Frame w/LED Light at Etsy
33.  Personalized stamps
Everyone loves personalized items. This one is so fun! Even secondary teachers will use this. I'm a high school teacher and would be stoked to use this on my students' papers.
Buy it: Personalized Stamp at Etsy
34. Whiskey River Soap Company Pencils for Teachers
Teachers will want to make sure they hang on to these pencils for themselves! The clever sayings on each will make them giggle. One teacher shares, "So cute! Love the sayings because as a teacher I have personally felt each one. One of the best gifts for teachers to brighten their day!"
Buy it: Whiskey River Soap Company Pencils for Teachers at Amazon
35. Zoweetek Voice Amplifier Microphone Headset
"This product has been a voice-saver for me! I am a high school teacher and have vocal issues," says one reviewer of this voice amplifier. "It has completely saved my voice." Teachers who need to wear masks in the classroom will especially appreciate this, as well as P.E. teachers or those who spend a lot of time outdoors.
Buy it: Zoweetek Voice Amplifier Microphone Headset at Amazon
36. Chipotle gift card
If not a Chipotle gift card, sub in a restaurant that is close to your area. I got a Chipotle gift card for $10 and it made my holiday season.
Buy it: Chipotle Gift Card at Target
37. Smiley slippers
Spread the smiles with these unisex slippers. They got great reviews on Amazon and are under $10!
Buy it: Smiley Slippers at Amazon
38. Snack box
I know I am not the only teacher who feels better having a stash of snacks in their cupboard. I like to know that I've got something there to offer a hungry student or grab if I forget my lunch. Snacks will never not be appreciated, and this box offers an excellent variety.
Buy it: Cravebox at Amazon
39. A comfy seat cushion
Teachers spend a long time sitting in their chairs while grading and doing other tasks so why not make it that much more comfortable? This cushion will definitely be high on the list of best gifts for teachers who have sore backs or muscles.
Buy it: Seat Cushion for Office Chair at Amazon
40. Scented candle
Help your favorite teacher relax and make their house smell like Anthropologie. I can testify to the calming scent of a Voluspa candle. This one is a personal favorite of mine. These candles are hand-poured and made of coconut wax. They smell and look magnificent.
Buy it: Voluspa Candle at Amazon
41. A portable massager
This portable massage gun would definitely help your child's favorite teacher at the end of a long work week. Teachers are often holding stress and tension in their bodies and might not even realize the relief they could get with this helpful deep-tissue massager. 
Buy it: Massager at Amazon 
42. Belt bag
This bag is trendy and for good reason! It is a functional, fashionable version of a fanny pack. Your child's teacher will love a gift that leaves their hands free while storing their phone, hand sanitizer, key card, and wallet. 
Buy it: Belt Bag at Amazon
43. Teacher earrings
These adorable statement earrings are perfect to dress up any outfit, even on jeans day! When it's a messy bun day, your child's teacher will feel more put-together with these fun earrings.
Buy it: Teacher Earrings at Amazon
44. Stanley Cup
Stanley Cups are all the rage and for good reason! I don't know a Stanley Cup owner who does not love their Stanley Cup and encourages all their friends to get one. The highlights of this cup: fits in your cup holder, has a handle, keeps your water cold, and has a straw. Make your teacher's day and get them the gift they might not buy for themselves. 
Buy it: Stanley Cup at Amazon
45. Label maker
Part of a teacher's job includes organization. Label makers will definitely upgrade their organization systems. Think of the endless possibilities! All of the supplies! All of the drawers and cupboards could be named! Get your organization-loving teacher a gift of organization.
Buy it: Label Maker at Amazon
46. Tile Mate
Teachers have a lot on their minds all day. They are problem-solving, answering questions, and managing challenges throughout the entire day, and sometimes they just forget where they put their keys (or their phone, or their Diet Coke that they set down in the middle of a lesson somewhere in their room). This Tile Mate could help them quickly find their lost lanyard—even if it is in the workroom fridge.
Buy it: Tile Mate at Target
47. Ice Roller
This little tool is affordable—only $5.99 as of this writing. It can help with puffiness and migraines and acts as your own little face roller. I've got one and it does make me feel like I'm doing something good for my face!
Buy it: Ice Roller at Amazon
48. Healing mask
There's a reason that you may have seen this mask before. It's a viral sensation with over 67,000 reviews. As I scrolled through, I couldn't wait to order this for myself! It helps with almost any skin issue you could have. Amazon says this product is "great for facials, body wraps, clay baths, foot soaks, hair masks, chilled clay knee packs, insect bites & more." Any teacher would appreciate this healing gift. 
Buy it: Aztec Secret Indian Healing Clay at Amazon
49. Lanyard
Lots of teachers wear lanyards to hold their school IDs, keys, and all the other paraphernalia they need quick access to throughout the day. This is one of the best gifts for teachers because you can get a lanyard to match their personality. We've got a whole selection to choose from for teachers of any subject here.
Buy it: Lanyard at Amazon
50. K-Cup Variety Pack
Who doesn't love coffee, especially Starbucks? Gift your favorite teacher or multiple teachers this variety pack, which is sure to have something for everyone. These K-cup pods will unquestionably be a welcome addition to the teacher's room!
Buy it: Starbucks Variety K-Cups – 40 Pack at Amazon
51. Grubhub gift card
Teacher's lose their minds when food is dropped off in the break-room. Texts are exchanged. Speed walking ensues. (The "No running in the hallways" rule comes dangerously close to being broken.) A Grubhub gift card will allow your teacher to order Chipotle when they forgot to pack a lunch or to order a meal during conference night. A Grubhub gift card is a gift that will be sure to make your teacher as excited as a workroom treat. 
Buy it: Grubhub Gift Card at Grubhub 
52. Crumbl Cookies
A Crumbl Cookie pastel pink box is becoming as iconic as a Tiffany blue box. Teachers love a sweet treat. If you gift a box of cookies, you can set it in the teacher workroom and treat all your child's teachers at once! Don't have a store in your area? Crumbl Cookies ships nationwide!
Buy it: Crumbl Cookies at Crumbl
53. A fresh manicure
I consider it a real treat to get my nails done and normally that happens for me just twice in a school year. I get my nails done at the start of the year and again when it is time to break out those toes for sandal season. Gifting your teacher a manicure will make them want to find an excuse to use the document camera and spend more time pointing at things on the Smart Board. This gift card can be used nationally at 15,000 different locations.
Buy it: Nail Gift Card at Pick Your Polish 
54. A day at the spa
If your child's teacher has seemed especially stressed out lately, they might enjoy a day at the spa. With this gift card, teachers can choose the services they are interested in and can use it at spas found nationally. You'll want to check to make sure you have a location near you that accepts the gift card.
Buy it: Spa Gift Card at Amazon 
55. Colorful pens
Most teachers have access to your basic black and blue Bic pens. Teachers get excited about fun pens! If you're looking for one of the best last-minute gifts for teachers that they'll still love, give them some colorful clicky pens.
Buy it: Paper Mate InkJoy Pens at Amazon 
56. Cookies that taste fresh forever 
If Crumbl Cookies are outside your budget, these cookies from Amazon have great reviews. The company recommends heating them up before eating them so they taste like they are fresh out of the oven. These cookies can be stored in the freezer to enjoy for later. 
Buy it: Mr. Cory's Cookies at Amazon 
57. Personalized picture frame
Teachers and coaches love the gift of memories. Share your child's favorite memory with their teacher in a personalized frame. This is a perfect gift to display in a teacher's classroom for years to come. 
Buy it: Personalized Picture Frame at Personalization Mall
58. Cute coasters 
These cute coasters are the perfect teacher gift for those teachers who always have a hot beverage on their desk. Give them an adorable place for them to rest their mugs. Even without the mug, teachers can display this personalized desk tchotchke to add some flair to their space. 
Buy it: Personalized Coaster at Etsy
59. A funny tie
For the teachers you know and love that have an impressive collection of quirky ties, buy them a tie to add to their collection as one of the best gifts for teachers! 
Buy it: Math Tie at Amazon
60. Personalized teacher T-shirt
Personalize this T-shirt for your teacher to wear on casual Friday. There are several color options, and the reviews say that it shipped quickly and is very soft. Teachers will love to add this T-shirt to their wardrobe rotation. 
Buy it: Personalized T-Shirt at Etsy 
Plus, check out these great stocking stuffers for teachers.
For more gift lists like this, be sure to sign up for our free newsletters to be alerted when new lists are posted!