[ad_1]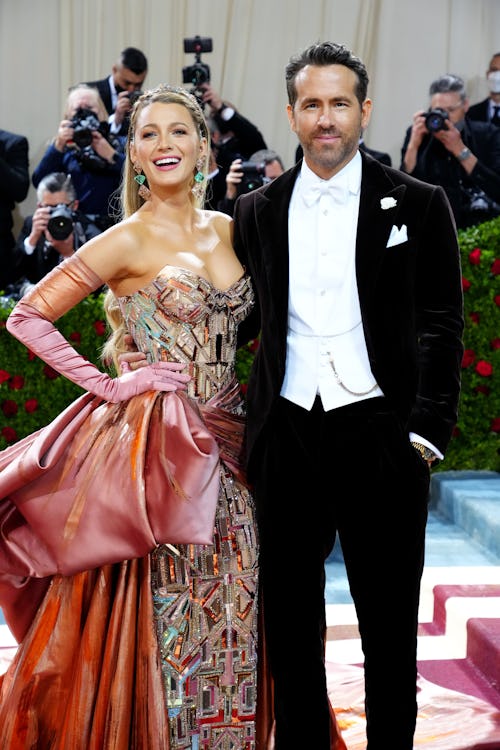 In the days of social media, when a celebrity gives birth, they also have to figure out a way to acknowledge it publicly. Will they completely avoid the topic a la Blake Lively, or maybe immediately post the child's face like Keke Palmer? Perhaps, they'll hide the pregnancy entirely, in the vein of Riley Keough. There are so many options to choose from, but no matter how they go about revealing the news (or not), we're keeping track of all the babies born in 2023. So, check back here to stay up to date on the latest bundles of joy.
Kourtney Kardashian and Travis Barker
Kourtney Kardashian and Travis Barker have welcomed their first child together, a baby boy, sources confirmed to People.
The news comes after the pair said they would name their child Rocky Thirteen, and weeks after Kardashian announced that she underwent "life-threatening emergency surgery" after complications arose during her pregnancy. "I will be forever grateful to my incredible doctors for saving our baby's life," the 44-year-old wrote on Instagram. "I am eternally grateful to my husband who rushed to my side from tour to be with me in the hospital and take care of me afterwards, my rock. And to my mom, thank you for holding my hand through this."
Kardashian and Barker married in 2022 and this is their first child together. The reality star is a mom to Reign Aston, 8, Mason, 13, and Penelope, 11, with her ex Scott Disick. Barker is a dad to to son Landon, 20, Alabama, 17, and stepdaughter Atiana De La Hoya, 24, with his ex Shanna Moakler. Kardashian announced that she was pregnant back in June by holding up a sign at Barker's Blink-182 concert.
"I just say: how could you question God's plan?" Kardashian told Vanity Fair Italia. "Because that's how I see this pregnancy, which came when both Travis and I weren't even thinking about it anymore and a year after we stopped IVF."
Serena Williams and Alexis Ohanian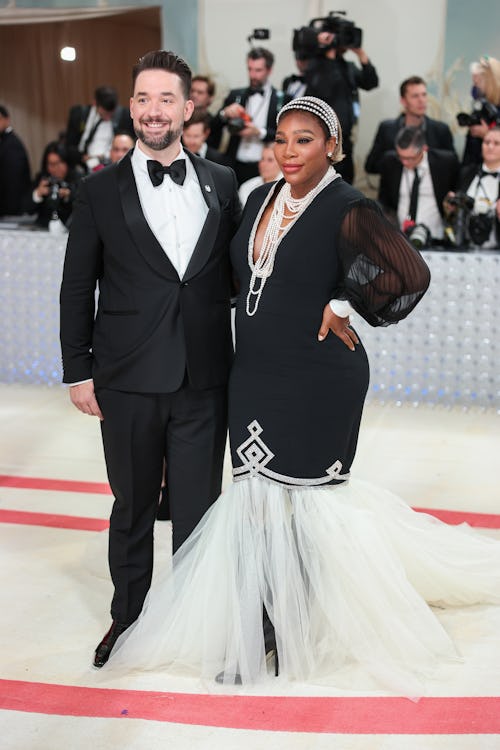 Serena Williams took to TikTok to announce the birth of her second child with husband Alexis Ohanian. "Welcome my beautiful angel," she captioned the video.
The tennis star unveiled that she was again expecting at this year's Met Gala when she showed up to the event in a bump-baring gown. "Was so excited when Anna Wintour invited the 3 of us to the Met Gala," Williams captioned an Instagram photo with Ohanian, who is a co-founder of Reddit.
Williams gave birth to her daughter Olympia, now five, in 2017 (she was a few weeks pregnant when she won the Australian Open tournament the same year). She suffered a series of complications during her first pregnancy, telling Elle that doctors "needed to insert a filter into my veins to break up the clot before it reached my heart."
She does not, however, have any plans to return to tennis any time soon. "I definitely don't want to be pregnant again as an athlete," she told Vogue in 2022. "I need to be two feet into tennis or two feet out.".
Rihanna and A$AP Rocky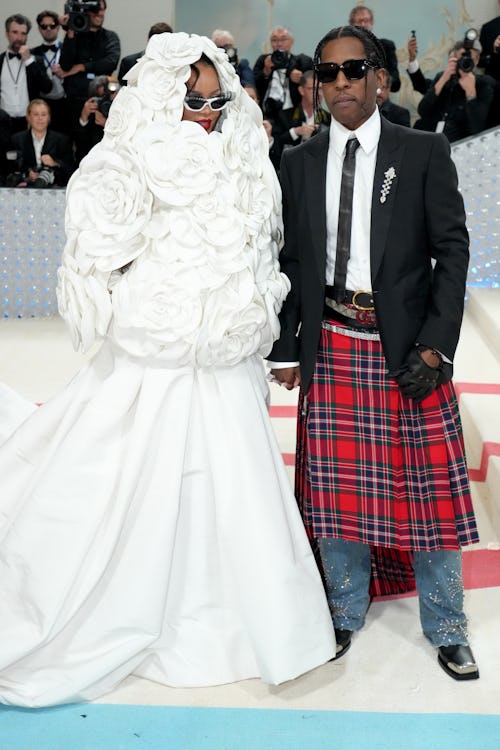 Rihanna and A$AP Rocky covertly welcomed their second child, a boy, on August 3rd it was learned via TMZ. The outlet also reported that while the child's name is still unknown, it does begin with the letter "R."
Rihanna announced her second pregnancy in grand style while performing the Super Bowl Halftime Show. In May 2023, she unveiled the name of the couple's first child, a boy, via her wardrobe choice. He is named RZA after the music producer and Wu-Tang Clan member, RZA.
During both of her pregnancies, the star has taken a stylish approach to maternity fashion. "You put some clothes on, and it's like, when you look good, you feel good," Rihanna said of her approach to maternity style. "I've heard that for a very long time, but it's true. It really can get you up off that couch and make you feel like a bad bitch."
Karlie Kloss and Joshua Kushner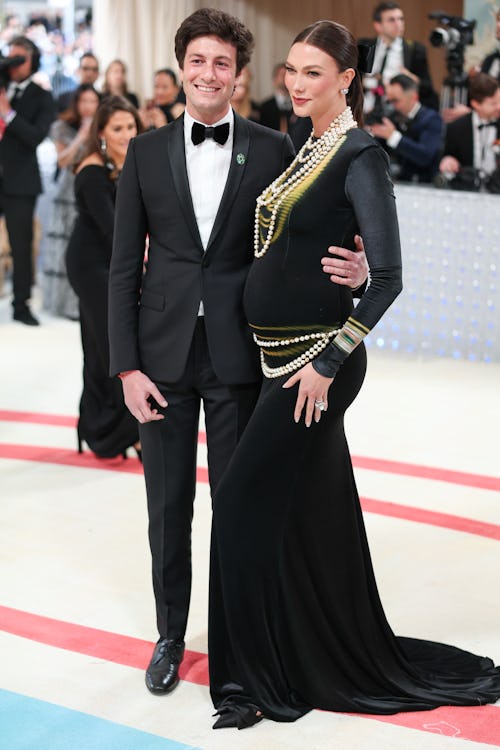 Karlie Kloss and Joshua Kushner welcomed their second child on July 11th. Kushner first made the announcement via Instagram. "Welcome to 🌎❤️ 7.11.23," he captioned the post. Kloss followed with her own post on July 20th in which she shared the baby's name, Elijah Jude.
Kloss and Kushner have been together since 2012 and tied the knot six years later. The couple welcomed their first child, 2-year-old Levi, in the fall of 2020.
"Everything changes," Kloss said after having Levi. "I have become, first of all, so much more efficient with my time. I'm actually on time everywhere now. I'm a multitasker. I think priorities just changed."
The supermodel made her second pregnancy public for the first time back in May. Alongside her husband, Kloss attended the Met Gala in a bump-baring black Loewe gown.
"I got a plus one, don't tell anybody," she told Vogue. "You know what, this is also the first time I'm sharing my news, so it's very special."
Greta Gerwig and Noah Baumbach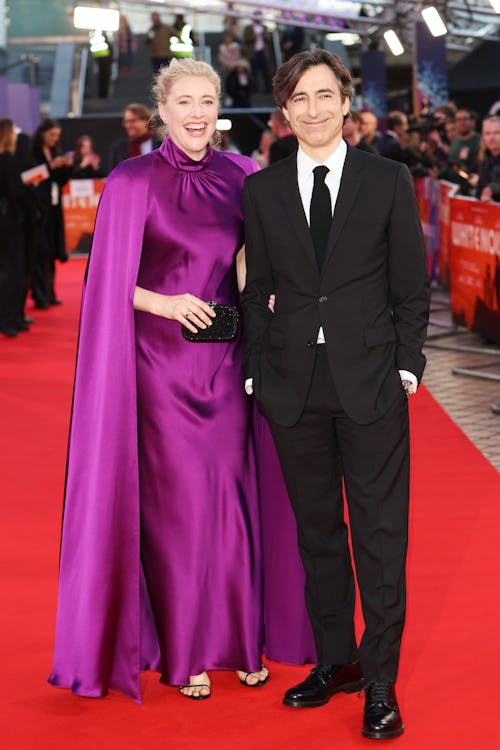 Greta Gerwig quietly gave birth to her second child with Noah Baumbach in the spring, the filmmaker revealed in an interview with Elle UK.
"He's a little Schmoo, that's very much his energy," she said. "He's a wise little baby. The little guy is sleeping through the night. But I'm still doing that thing where I wake up, every hour to 90 minutes, and just hover. You just keep wanting to look at that baby. So I'm slightly in a twilight state."
Gerwig and Baumbach also share a 4-year-old son, Harold, who they welcomed in 2019. The couple first began dating in 2011 and have largely kept the details of the relationship fairly private. Baumbach is also a father to Rohmer, 13, with his ex-wife Jennifer Jason Leigh.
"I'm about to be 40," Gerwig explained. "And there's something about that where you're like: 'Oh! I'm properly middle aged now.' All parts of life feel extremely activated."
Lindsay Lohan and Bader Shammas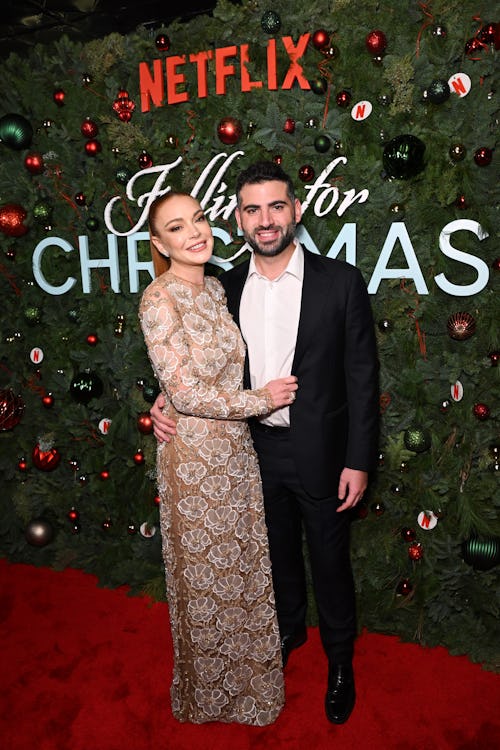 Lindsay Lohan is officially a mom. The actress has welcomed her first child, a boy named Luai, with husband Bader Shammas.
"The family is over the moon in love," Lohan's representative said to Page Six. According to the outlet, the baby was born in Dubai (where Lohan lives) but its exact birthdate has not been publicized yet. In Arabic, Luai means "shield" or "protector."
Lohan (who was previously engaged to Egor Tarabasov in 2016) made things official with Shammas when the two tied the knot during a secret ceremony last year. The 37-year-old, who has been upfront in the past about wanting to be a mother, revealed she was expecting in March via Instagram.
"I can't wait to see what the feeling is and what it's like to just be a mom," Lohan told Allure last month. "It's overwhelming, in a good way."
Michael Anthony Hall and Lucia Oskerova
Michael Anthony Hall is a new dad at the age of 55. The actor and his wife Lucia Oskerova quietly welcomed their son, Michael Anthony Hall II, on June 1st.
"It's great. We're excited. That first month of parenting is pretty wild," actor told PEOPLE. "Everything that everybody tells you is pretty true: you lose sleep and it's the craziest time, but it's the best time. So we're really enjoying it."
Hall met Oskerova, 32, in 2016 and proposed three years later. Back in February, Hall revealed via Instagram that the couple were expecting their first child.
"My wife Lucia and I are so blessed, happy and proud to announce on this Valentine's Day, that we are expecting our first child this summer," he said. "Thank You Heavenly Father! Sending our heartfelt thanks to our loving families & friends who are celebrating our great news with us today."
Claire Danes and Hugh Dancy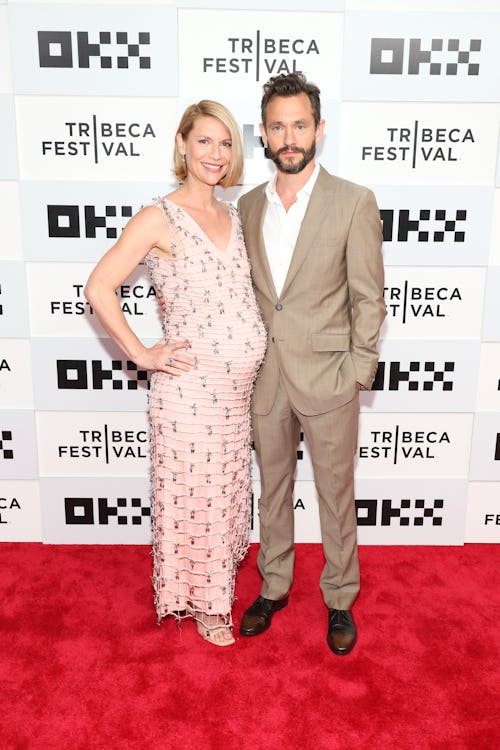 Claire Danes and Hugh Dancy's third child, a boy, is here. It is unclear when exactly 44-year-old Danes gave birth to their son, but the couple was spotted in New York City on July 10th taking a stroll with their newborn.
Danes made her pregnancy public at this year's Golden Globe Awards. "Mama mode is all right, this one was not so expected but we're thrilled and here we go," she said on the red carpet. "It's wonderful, I'm in the second trimester, which is the more forgiving chapter. So, I'm grateful were out of the nausea phase."
Danes and 48-year-old Dancy share Cyrus, 10, and Rowan, 4, who they welcome in 2012 and 2018. The couple, who were co-stars on Evening, started dating in 2006 and tied the knot three years later.
"I've always wanted to have kids, but I'm glad I didn't until now," Danes told Elle after giving birth to Cyrus. "When I was thinking about [working and being a mother] originally, I was really nervous about it. I think I would make a lousy stay-at-home mom. It just wouldn't suit me. I feel so fortunate, in that I've had this arrow-straight focus that I wanted to act."
Kit Harington and Rose Leslie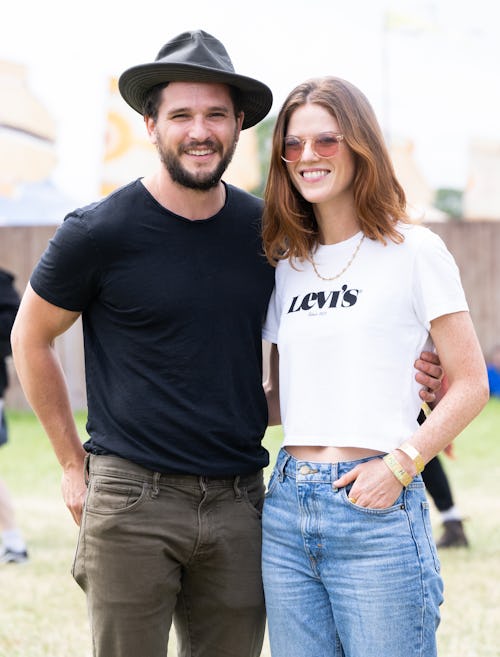 Game of Thrones stars Kit Harington and Rose Leslie have welcomed their second child together, according to Page Six. Harington confirmed Leslie was pregnant on The Tonight Show Starring Jimmy Fallon back in Febuary. "They're delighted to have welcomed a little girl into the family," the actor's rep told the site.
Harington and Leslie met on the set of the hit HBO show in 2011 and got engaged in 2017. They married a year later and welcomed their first child, a son, in 2021. The two actors are usually very private when it comes to their relationship and family, and still haven't revealed the name of their son, so don't expect much inform about their newest addition either. That being said, Harington did recently open up about his son while promoting his Apple TV+ show, Extrapolations.
"He's just loving life," Harington told Entertainment Tonight. "My boy loves life. He charges around, and I think he's going to be a great older brother. It's just really exciting."
Naomi Campbell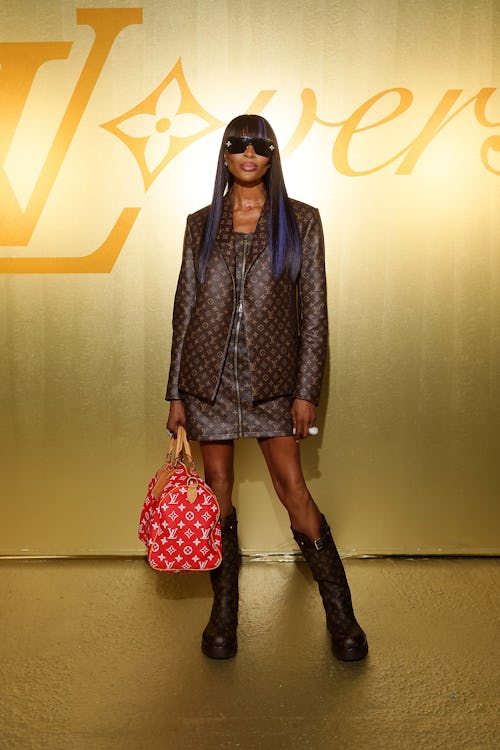 Naomi Campbell announced on June 29th that she welcomed her second child, a baby boy.
"My little darling, know that you are cherished beyond measure and surrounded by love from the moment you graced us with your presence," she captioned her Instagram post. "A True Gift from God, blessed! Welcome Baby boy. It's never too late to become a mother."
The 53-year-old welcomed her first child, a girl, in 2021. She has remained extremely private when it comes to her personal life, so not much is known about the circumstances surrounding her children.
"A beautiful little blessing has chosen me to be her mother," Campbell said upon the birth of her daughter. "So honored to have this gentle soul in my life there are no words to describe the lifelong bond that I now share with you my angel. There is no greater love."
John Legend and Chrissy Teigen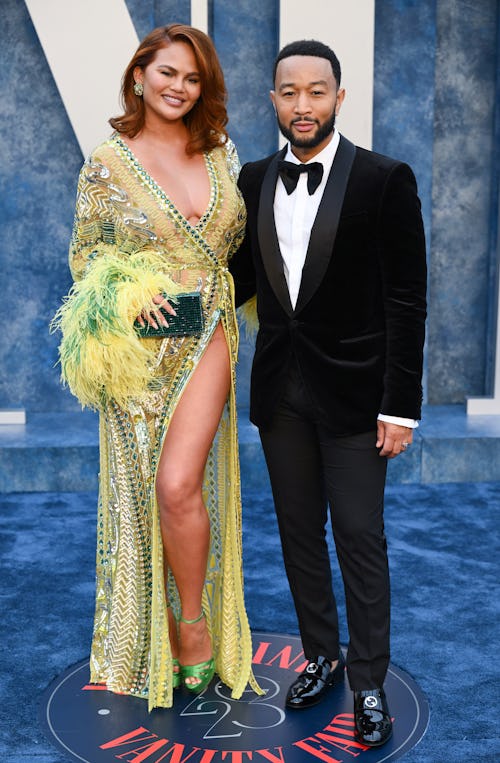 John Legend and Chrissy Teigen welcomed their fourth child, Wren Alexander Stephens, via surrogate on June 19th. Teigen made the announcement just over a week later on Instagram.
"For as long as I can remember, I've always wanted four children," Teigen explained. "All our wishes and dreams aligned," she said, recalling meeting their surrogate. "I wanted to be her friend, I wanted our children to play, I wanted dinner together, I wanted to lay my head on her belly and be able to feel the hiccups and kicks. I wanted them to be in our lives."
"We want to say thank you for this incredible gift you have given us, Alexandra," she continued. "And we are so happy to tell the world he is here, with a name forever connected to you, Wren Alexander Stephens."
The couple's fourth child comes five months after they welcomed their third child, Esti. They also share their son, Miles, and daughter, Lucia.
"The house is bustling and our family could not be happier," Teigen said upon the birth of their third child. "Daddy sheds nightly tears of joy seeing Luna and Miles so full of love, and I am learning you still need diapers with a c section!? We are in bliss. Thank you for all the love and well wishes."
Princess Eugenie and Jack Brooksbank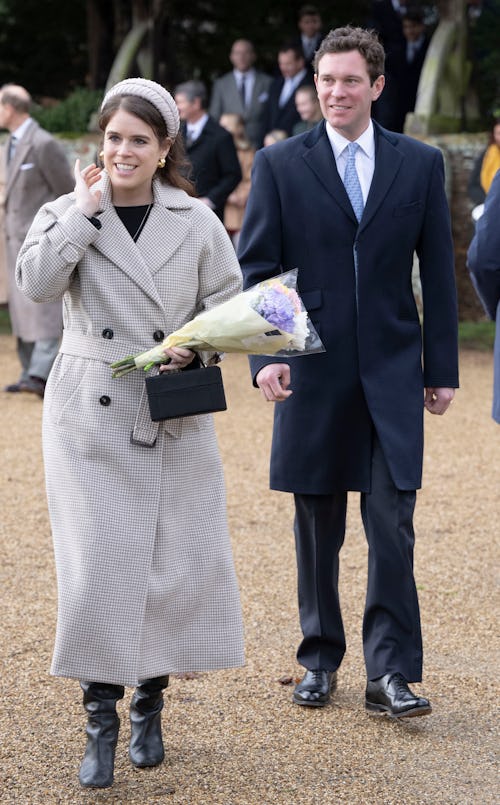 A new Royal baby has arrived as Princess Eugenie and Jack Brooksbank welcomed their second child to the world on June 5th. The pair, who married in 2018, had their first child August in 2021.
"Jack and I wanted to share the news that we had our little boy, Ernest George Ronnie Brooksbank on 30th May 2023 at 8.49 weighing 7.1lbs," the princess wrote on Instagram. "He is named after his great great great Grandfather George, his Grandpa George and my Grandpa Ronald. Augie is loving being a big brother already."
Ernest will hold the title Master Brooksbank and is currently 13th in the line of succession to the British throne. He is also the first great-grand child to be born after the passing of Queen Elizabeth II last year.
In January, Buckingham Palace announced that the Princess, who is the grand daughter of Queen Elizabeth II, was pregnant. "Princess Eugenie and Mr Jack Brooksbank are pleased to announce they are expecting their second child this summer," the statement read. "The family are delighted and August is very much looking forward to being a big brother."
Sarah Snook and Dave Lawson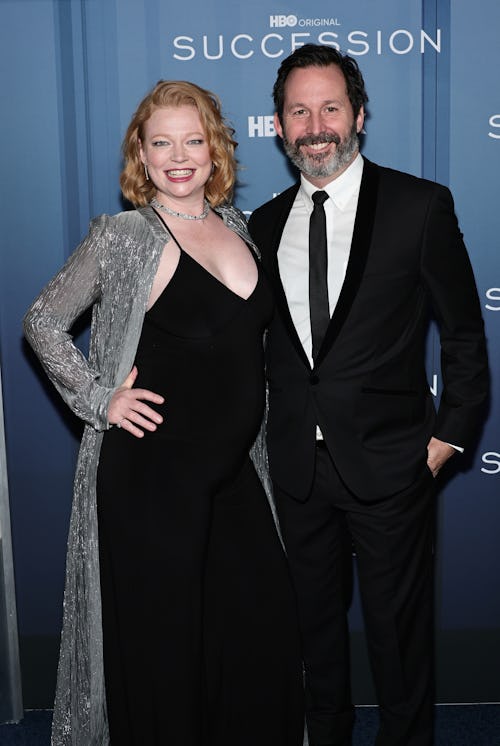 Sarah Snook used the ending of one chapter of her life to announce the start of another, taking to Instagram following the Succession finale to share her thoughts on the show's conclusion while revealing she'd given birth to her first child. In the photo, you can see Snook watching the episode with her newborn, their little head popping up at the bottom of the shot. "I just watched the final episode of the final season of something that has changed my life," she wrote. "And now, my life has changed again. Thank you for all the love and support."
Snook initially announced her pregnancy at the premiere of Succession's fourth season in March, attending the red carpet in a look that showed off her bump. The timing was especially convenient considering the actress' character, Shiv Roy, happens to be pregnant in the final season as well, though Snook said she's not looking toward Succession for any parenting advice. "I don't know if the Roy family are a paragon of family values," she told Extra. "I don't think we could be looking up to them for guidance."
This is Snook's first child with her husband, Australian comedian Dave Lawson. The pair, who have been friends since 2014, reconnected during the pandemic and tied the knot in a backyard Brooklyn wedding in Brooklyn back in February 2021.
Daniel Radcliffe and Erin Darke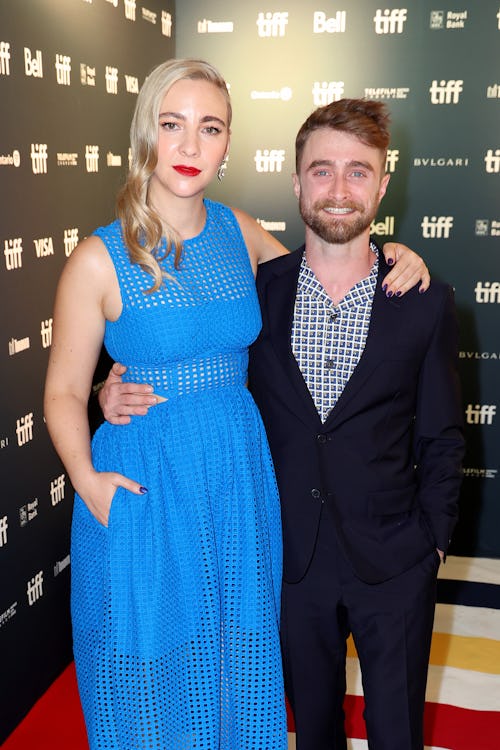 You're a father, Harry. Radcliffe and his longtime girlfriend, Darke, have welcomed their first child together. The couple has not officially announced the news, but Daily Mail shared photos of the actor pushing a stroller around New York City as Darke followed close behind.
Radcliffe and Darke have been together for a decade after meeting on the set of Kill Your Darlings in 2012. The two have remained fairly private in terms of their relationship, though they do make the occasional red carpet appearance together. It was The Sun that originally broke the news about their pregnancy in March 2023. "Daniel is so excited to be a dad. His relationship with Erin is really special and everyone thinks they will be amazing parents," a source told the site. "They have kept it pretty quite up until now but she can't hide her bump anymore."
Hilary Swank and Philip Schneider
Swank and her entrepreneur husband, Philip Schneider, welcomed twins, a boy and a girl, announcing the news on Easter. "It wasn't easy. But boy (and girl!) was it worth it," the 48 year-old actress shared on Instagram along with a photo holding the newborns. Swank took the opportunity to wish her followers a Happy Easter and share that she was "posting from pure Heaven."
Swank and Schneider got married in 2018 after dating for two years. In October 2022, the actress announced the pregnancy on Good Morning America. "This is something that I've been wanting for a long time and my next thing is I'm gonna be a mom," she said on the show.
Jasmine Tookes and Juan David Borrero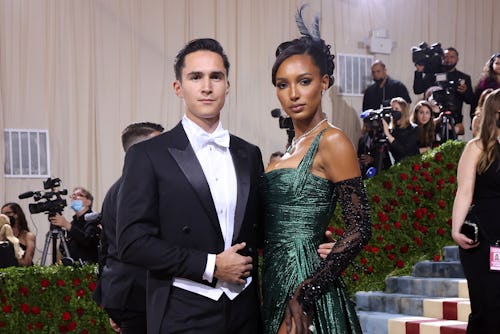 Former Victoria's Secret Angel Victoria Tookes and her dashing tech exec hubby Juan David Borrero welcomed their first child together. Tookes took to Instagram to reveal that she welcomed a child named Mia Victoria on February 23rd.
Tookes and Borrero married in an elaborate ceremony in the groom's native Ecuador in 2021, and announced they were expecting about a year later. The pair had been dating for four years when Borrero, who works at SnapChat alongside Miranda Kerr's husband Evan Spiegel, proposed via drone in 2020.
Keke Palmer and Darius Jackson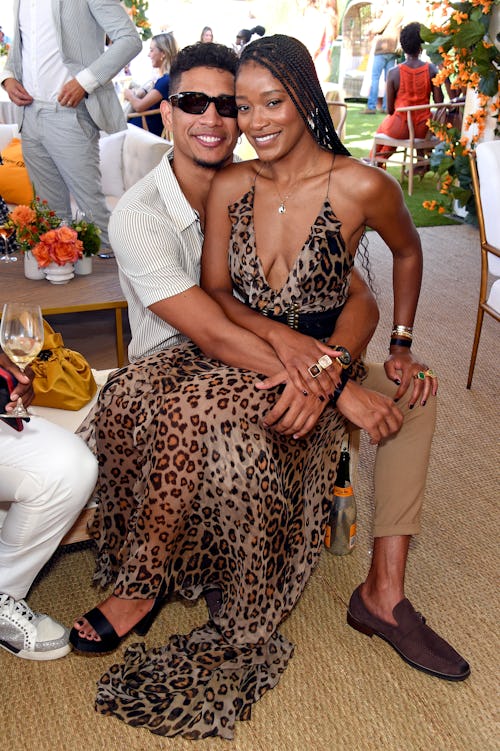 Keke Palmer was more than happy to share her baby with the world just 48 hours after he entered it. "I'm not hiding the world from my son, I'm hiding my son from the world," she quoted in her Instagram post, before immediately following that up with, "I'm just playing, my baby's face is on this slide." And she wasn't lying, a few clicks revealed Leodis "Leo" Andrellton Jackson, whom the actress welcomed with her boyfriend, Darius in late February.
Blake Lively and Ryan Reynolds
While Blake Lively and Ryan Reynolds have yet to officially announce the birth of their fourth child, their recent Instagram post spoke volumes. On Super Bowl Sunday, Lively shared a photo with Reynolds and his mother, with no baby bump in sight, and many took that as confirmation that their child had been born. As of now, we don't know the name or sex of their newest addition.
Adam Levine and Behati Prinsloo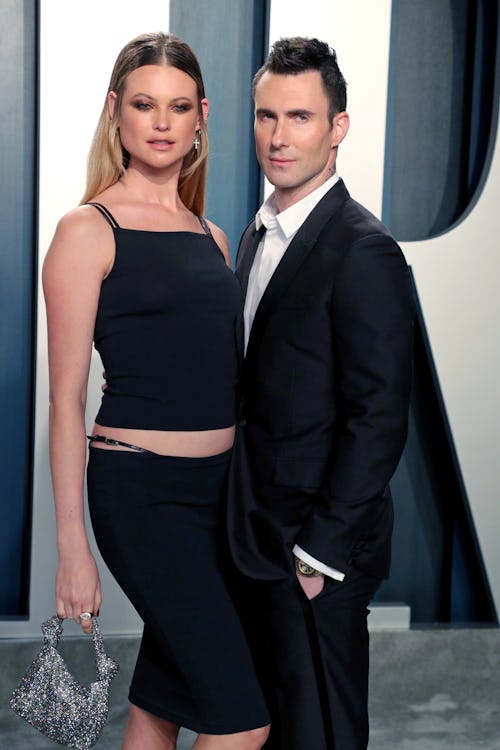 Adam Levine and Behati Prinsloo welcomed their third child together in January, following a pregnancy filled with controversy. In September 2022, a woman came forward and said she'd been speaking with the Maroon 5 singer for about a year. Levine later admitted he "used poor judgement" but "did not have an affair."
Paris Hilton and Carter Reum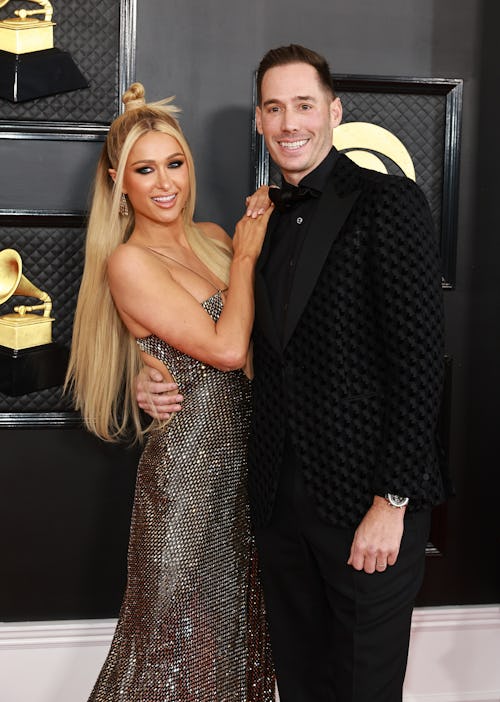 Paris Hilton surprised the public when she posted a birth announcement on Instagram in late January. The socialite and her husband secretly welcomed a child via surrogate, but chose to not reveal the news until after his birth. Since then, Hilton has been more forthcoming with details, showing off her son's face, and name (Phoenix Barron Hilton Reum) on Instagram.
Riley Keough and Ben Smith-Petersen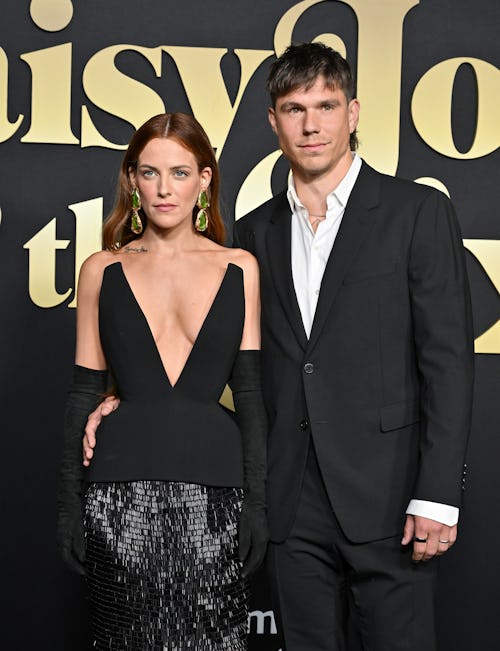 We actually don't know if Riley Keough's daughter was born in 2023. The only reason we know the actress welcomed a child at all is because her husband spoke about it at Lisa Marie Presley's memorial service.
Chrissy Teigen and John Legend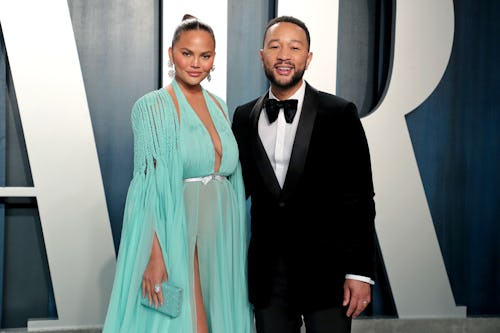 John Legend announced at his concert on January 13th that he and Chrissy Teigen had welcomed their third child, a daughter named Esti Maxine, earlier that day.


[ad_2]

Source link