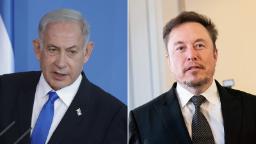 Israeli Prime Minister Benjamin Netanyahu called on Elon Musk to 'roll back' antisemitism on X, the platform formerly known as Twitter, during an in-person conversation broadcast live on Monday afternoon.
After an exchange about the regulation of artificial intelligence, Netanyahu praised Musk for his commitment to freedom of speech and pleaded with him to fight back against hate speech.
"I know your commitment to free speech," Netanyahu told Musk. "But I also know your opposition to antisemitism. You've spoken about it, tweeted about it. And all I can say is, I hope you find, within the confines of the First Amendment, the ability to stop not only antisemitism, or roll it back as best you can, but any collective hatred of people…. I know you're committed to that and I hope you succeed. And it's not an easy task, but I encourage you and urge you to find a balance."
Musk replied that he was "against attacking any group, doesn't matter who it is," and that his vision for humanity becoming a space-faring species is undermined by "infighting and hatred and negativity."
"Obviously, I'm against antisemitism," Musk continued, "I'm anti- really anything that is, you know, that promotes hate and conflict. And I'm in favor of that which helps society and takes us to a better future for humanity collectively."
The exchange came as part of a brief visit by Netanyahu to California before he travels to New York to meet with world leaders at the United Nations General Assembly.
Gilad Erdan, Israel's ambassador to the United Nations, in an interview Monday with Israel's Army Radio ahead of the meeting foreshadowed the possible tensions between Musk and Netanyahu over antisemitic content on X.
"Does meeting with Elon Musk mean he identifies with everything and every position of Elon Musk? Of course not, just like when he meets with Erdogan he doesn't agree with everything Erdogan says or does," Erdan said, referring to Turkish President Recep Tayyip Erdogan.
Antisemitism on X
Since purchasing the company last year, Musk has laid off more than 80% of X's staff, including many on its trust and safety teams charged with designing and enforcing the platform's content rules.
In addition to provoking claims he has weakened X's enforcement against hate speech, Musk has stoked tensions with civil society groups and in particular the Anti-Defamation League, which he has threatened to sue over its critiques about X. In August, X sued another hate speech watchdog group, the Center for Countering Digital Hate, over the nonprofit's research showing that X has failed to remove content that violates its own rules.
AI
During the conversation, Musk also said during his meetings with senior Chinese officials he warned of the risks of artificial intelligence, saying that if proper safeguards weren't taken, "that digital super-intelligence could be in charge of China instead of the CCP being in charge of China."
"The CCP prefers to be in charge," Musk said. "So, I think they understand the arguments [for regulation]."
Netanyahu said in remarks to the press before his departure from Israel, adding that he plans to ask Musk to invest in Israel's AI industry. The discussion comes a week after Musk traveled to Washington and met with more than 60 US senators, along with other tech CEOs and civil society leaders, to address the risks and benefits of AI.
Praising him as "the current leader of the most dramatic development in the new age and perhaps in general," Netanyahu said in his remarks that Musk "is, to a large degree, paving the way that will change the face of humanity and also the face of the State of Israel."
While Musk this year announced the creation of a new AI company, xAI, whose goal is to "understand the true nature of the universe," it is eclipsed by industry giants including Google, OpenAI, IBM and other established businesses with access to massive amounts of cloud computing infrastructure and processing hardware, as well as armies of AI talent.
Still, Netanyahu's remarks highlight how, for his administration, the meeting with Musk carries huge political and economic stakes and the opportunity to brand Israel as a leader in the fast-growing AI sector.