Binance CEO Changpeng Zhao recently addressed various pertinent questions about the leading Bitcoin (BTC) trading venue and its future amid ongoing regulatory challenges.
Zhao, known within the crypto sector as "CZ," provided insight on the exchange's current situation as well as BNB Chain's momentum in a recent X (formerly Twitter) "Ask Me Anything" session.
CZ debunks Binance rumors and FUD
Zhao began by addressing the rumors surrounding Binance, emphasizing that negative news often spreads faster than the truth in the crypto world. 
He acknowledged the presence of FUD (fear, uncertainty, doubt) but highlighted that Binance is fundamentally different from the disgraced Sam Bankman-Fried's FTX. 
According to Zhao, the key difference lies in Binance's financial structure. He claims the world's largest centralized crypto exchange operates without debt, ensuring its financial stability.
When asked about the sluggish momentum of the BNB Chain, Zhao clarified that he doesn't directly oversee the technical aspects of Binance's DeFi ecosystem. This distinction is crucial, as the BNB Chain operates independently, driven by a community of developers and validators. 
Zhao emphasized that community involvement is key to the chain's progress and hinted that challenges like FUD and rumors provide opportunities for the platform to demonstrate its resilience.
Regarding the ever-increasing regulatory scrutiny, Zhao acknowledged that it hasn't been an easy journey for Binance. 
However, he firmly stated that this scrutiny has made the exchange stronger as a business. He noted that Binance is in a much better position today than it was two years ago, highlighting the importance of adapting to changing regulatory landscapes.
Binance's unending battles
In recent months, Binance has witnessed several high-level departures, including its Asia-Pacific chief, Leon Foong. The exact reasons behind these departures remain undisclosed, but it's evident that the firm's leadership team is undergoing significant changes. This trend raises questions about the exchange's strategic direction amidst regulatory challenges.
Binance also made headlines when it announced that it would no longer support the Paxos-issued BUSD stablecoin in early 2024. This move indicates a shift in Binance's operations, possibly driven by the ongoing legal battles and regulatory pressures.
Binance has recommended that its users consider converting their BUSD (Binance USD) holdings into alternative assets available on the Binance platform before Feb. 2024. This advice is given to ensure a seamless transition for users. 
Additionally, the exchange has provided assurance that BUSD balances can be easily traded for First Digital USD (FDUSD) without incurring any trading fees. Moreover, users have the option to convert their BUSD holdings into FDUSD at a straightforward 1:1 ratio. 
In practical terms, this means that users can swap their BUSD for FDUSD without any loss or additional cost, which can be advantageous if they prefer using FDUSD or see potential benefits in doing so.
Binance aims to provide flexibility and convenience to its users while promoting the adoption of FDUSD, potentially signaling a shift in the platform's supported stablecoin offerings.
The U.S. Securities and Exchange Commission (SEC) has requested permission to file certain documents under seal in its civil lawsuit against Binance, Binance.US, and Zhao. Former SEC official John Reed Stark speculated that this sealed motion might be linked to a criminal investigation by the U.S. Department of Justice. This development adds another layer of uncertainty to Binance's legal situation.
BNB price analysis
BNB's price is trading around $214, which is an over -11% decline in the past 30 days, according to CoinGecko. This comes after BNB broke the key resistance level of $250 in June. However, the token does have a strong support level at $180 on the weekly timeframe.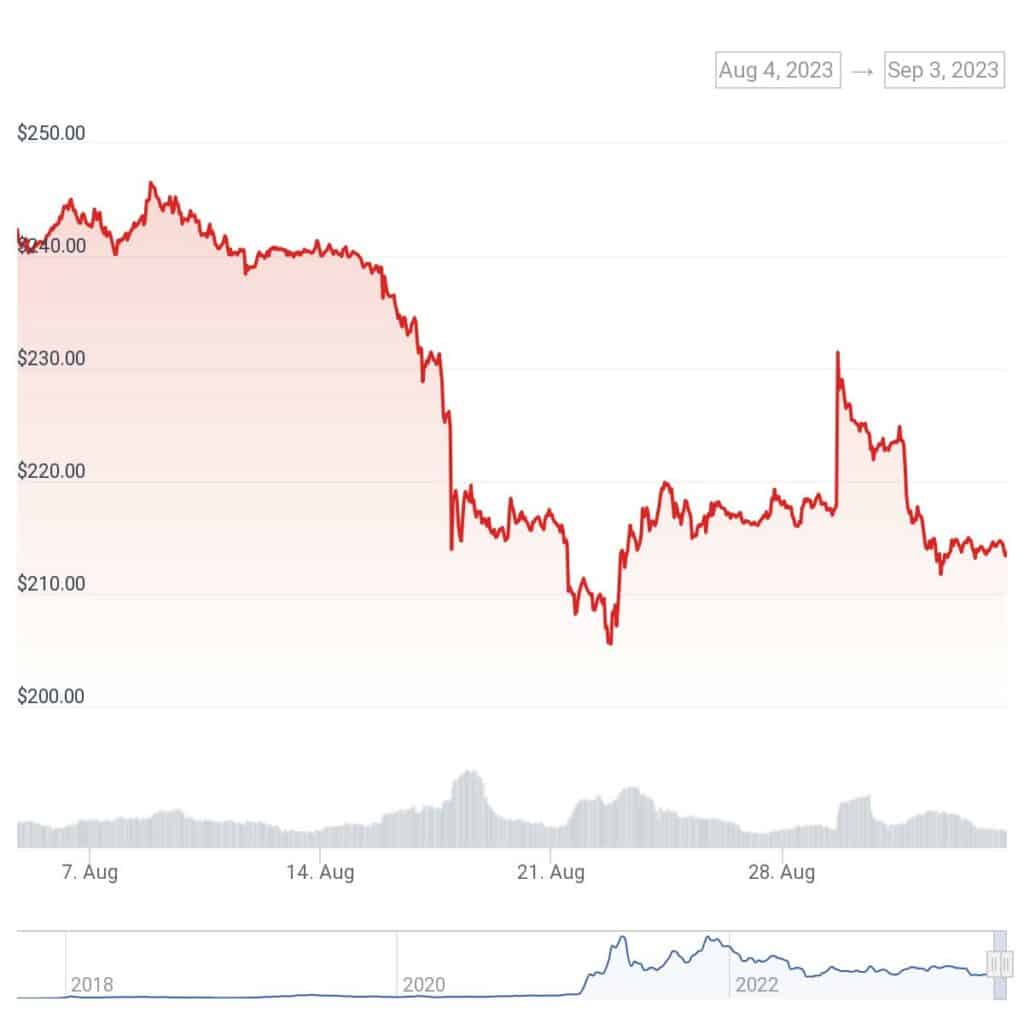 The Relative Strength Index (RSI) for the weekly timeframe stands at 20, signaling a bearish sentiment in the short term. This suggests that BNB is currently oversold, which could potentially lead to a rebound in its price in the future.