Bittensor's TAO token price has increased by over 300% in the last 30 days, likely due to the coin's unique approach involving the collaborative training of machine learning models.
Blockchain technology, with its promise of transparency and efficiency, has found a natural ally in artificial intelligence (AI), giving rise to innovative projects such as Bittensor, a protocol focused on machine learning models. 
Bittensor's users are rewarded in TAO tokens based on the value they contribute to the collective machine learning model. TAO not only serves as a reward mechanism but also allows external users to access information from the network, tailoring its activities to individual needs.
The project envisions a market for artificial intelligence where consumers and producers can interact transparently. This alignment of blockchain and AI represents a step forward in creating secure and efficient AI solutions within blockchain protocols.
TAO price analysis
At present, the price of TAO is $224 representing an increase of 34% in the last 24 hours and a remarkable jump of over 377% within the last 30 days. TAO has a market capitalization of more than $1.27 billion, according to CoinGecko.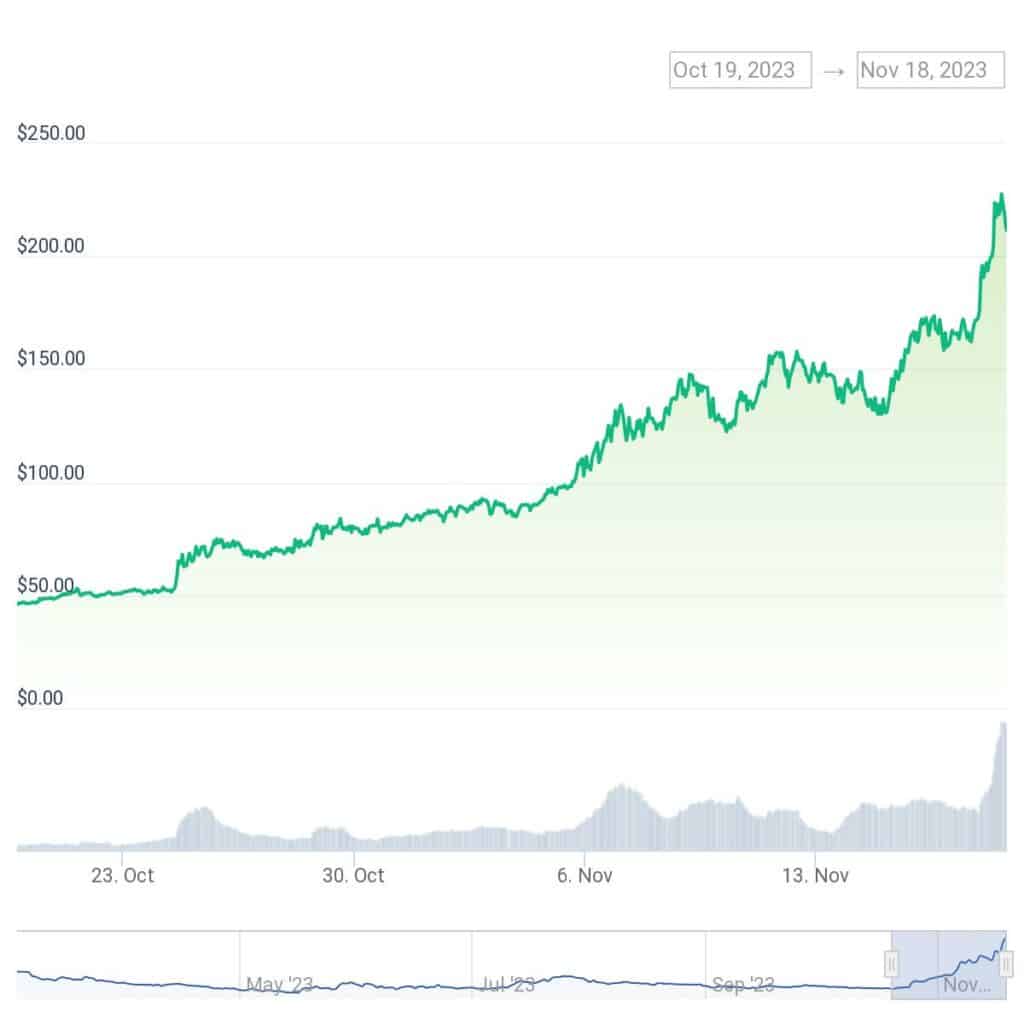 Crypto enthusiasts have expressed optimism over TAO's potential. According to Eric Cryptoman, TAO's journey to the top 10 cryptocurrencies seems plausible. 
While Bittensor's TAO is making waves with a significant price surge, the broader cryptocurrency market, led by Bitcoin (BTC), has experienced a modest setback. On Nov. 16, BTC, which is the flagship cryptocurrency, retraced from a recent high of $37,900 to $36,600. However, Cowen – a popular crypto market participant retains bullishness on BTC's supremacy going forward.
In a recent YouTube video, Cowen asserted that Bitcoin's dominance (BTC.D) is set to continue its ascent, suggesting that Ethereum may face challenges in keeping pace and might exhibit more modest gains compared to BTC. 
Cowen emphasized that his crypto portfolio is predominantly weighted towards Bitcoin, citing his anticipation of BTC outperforming various assets, albeit not all.
Blockchain technology accelerates AI adoption
A recent report underscores the symbiotic relationship between blockchain and AI, revealing that 71% of enterprises view these technologies as fully complementary. This level of comfort and excitement suggests a promising future where AI and blockchain continue to converge, with projects like Bittensor at the forefront of this intersection.
The recent rally in the crypto market following OpenAI's AI Developer Day on Nov. 6 adds an interesting layer to the Bittensor story. OpenAI's unveiling of new AI capabilities, including upgraded GPT-4 and GPT-3.5 natural language models, hints at a potential impact on AI tokens. This could explain an increasing interest in AI-based crypto.
Will AI tokens continue the momentum?
The confluence of Bittensor's surge, positive sentiment from market participants, and the broader AI landscape evolving with OpenAI's advancements poses an intriguing question: Will AI-related crypto projects continue to see strong price gains?
As AI technology continues to advance and intertwine with blockchain, projects like Bittensor might represent a glimpse into the future of decentralized and incentivized AI networks.