A good friend once told Dean West that there's nothing more important to his success than hangtime—which makes sense if the native of Australia were a small forward in the NBA. But it turns out that the wisdom rings just as true for an aspiring photographic artist.
"The more you're at the right fairs, in the right galleries, in front of the right art [enthusiasts]," says the Miami Beach resident, "then the more your work will hang on people's walls."
In the years since his images first started gaining critical acclaim and interest from the likes of Elton John in the 2010s, hangtime isn't the only aspect of his creative game that's making an impression. West has gained international renown for both challenging and mesmerizing viewers with detail-rich, cinematic-quality concepts that can take up to 12 months or longer to flesh out, cast, stage and execute. The movie analogy extends to his production budgets, which can run as high as $120,000 for a single day's worth of shots.
"It's a huge investment, but I'm incredibly grateful that I have a following and that I have galleries that support my work," says West, whose images are promoted in a half-dozen galleries around the world, including Echo Fine Arts on the French Riviera and C & C Gallery in Palm Beach. "It really is like making a film. It's taking control of all the elements—story, cast, crew, lighting, color—and highlighting little moments in time, moments that can happen every day but are never captured so perfectly."
West grew up in the agricultural hamlet of Gunnedah, Australia (with a population of 8,300). His blue-collar father, who spent 40 years on the railway, couldn't understand why his son wanted to pursue an education instead of rugby (West, like the rest of his family, loved and played several sports). But Queensland College of Art at Griffith University—the premier school in Australia for design, photography and other creative endeavors—beckoned. West, who'd been receiving positive feedback for his photography work since begging his parents for a camera at age 7 (and getting one for Christmas), majored in the discipline at Queensland.
After enjoying early success with a commercial business he started with a fellow photographer, West could feel something more personal stirring inside. He created two artistic images that won awards in photography competitions. Encouraged by the critical reception, West then tried to sell the photography.
"I put them up on eBay for a week-long auction," he says. "I priced one for $7,000 and the other for $4,000—and prayed for the best. The week went by, and the auction closed. I thought, hey, it was worth a shot."
Was it ever. A day after the close of the eBay auction, a collector from Melbourne reached out—and purchased both works. That client went on to buy more than $100,000 worth of his detail-rich, atmospheric images.
West never looked back.
Over the past decade-plus, he's exhibited either as a solo artist or in group exhibitions throughout Europe, South America and the United States. Since the onset of COVID, West has set up shop in Miami Beach, a backdrop (along with rest of Florida) that inspired his latest series, "The Palms."
West provided insights into the images showcased in this feature.
La Piscina (from his recent "The Palms" series): "Honestly, this shoot was a nightmare. The goal was to photograph these two young gentlemen who jumped their neighbor's fence to go swimming in the middle of the night. Then, all of the sudden, they look up and see this wolf staring at them. Florida has this absurd amount of exotic animals in captivity—and some of them escape. So, it touches on the surrealism that is Florida. And it touches on the beauty of these two young men who are living freely on a summer's night.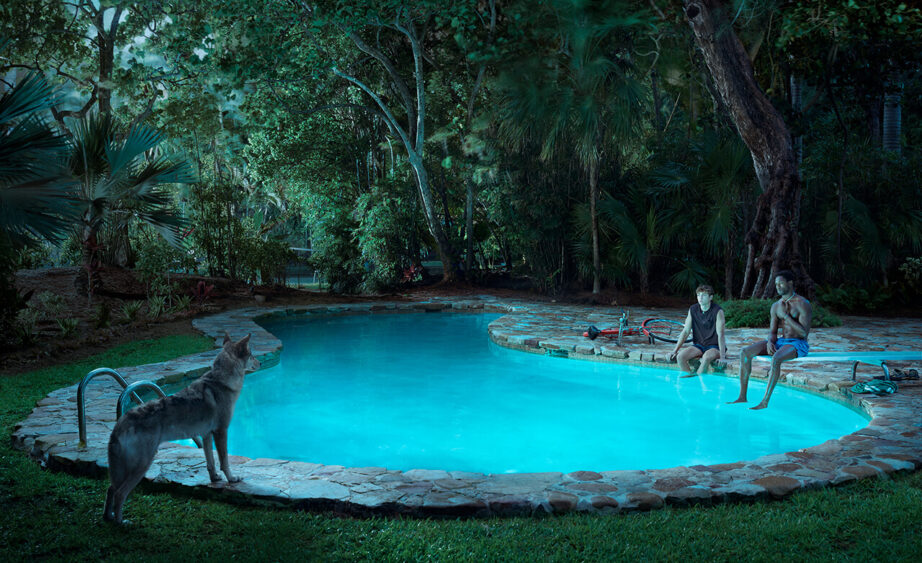 "I'd found this kidney-shaped pool, iconic to the area, at a home in Miami Shores. The talent was flying in. We had a whole cinematic crew hired. And we had wolves [courtesy of] a company called Animal Crackers that I work with. But this tropical depression had been brewing below Cancun. Two days before the shoot, I made the call. The weather reports looked good enough; it seemed like we were going to be fine.
"About 11:30 p.m., bands of rain start pouring down. It rained on and off the rest of the night. This is one of only two photos we captured. This one still hurts because I had so many more ideas that I wanted to execute that night. I ended up losing a lot of money; it cost $58,000 for everyone to be there.
"One of the lessons I learned is that if there's ever a named storm anywhere in the vicinity of the shoot—you cancel!"
Pink Dreams #1 (from "The Palms" series): "I like to think that the works I'm doing in Miami and around Florida aren't your typical super bright, colorful, beachy vibe. It's tapping more into the undercurrent—and a little bit of the darkness and weirdness of Florida. This state, for me, presents a crazy, surrealistic canvas [from which to work]. The landscape is stunning—the Art Deco, the pools, the palms. But underneath that? There really is this underbelly of eccentric culture.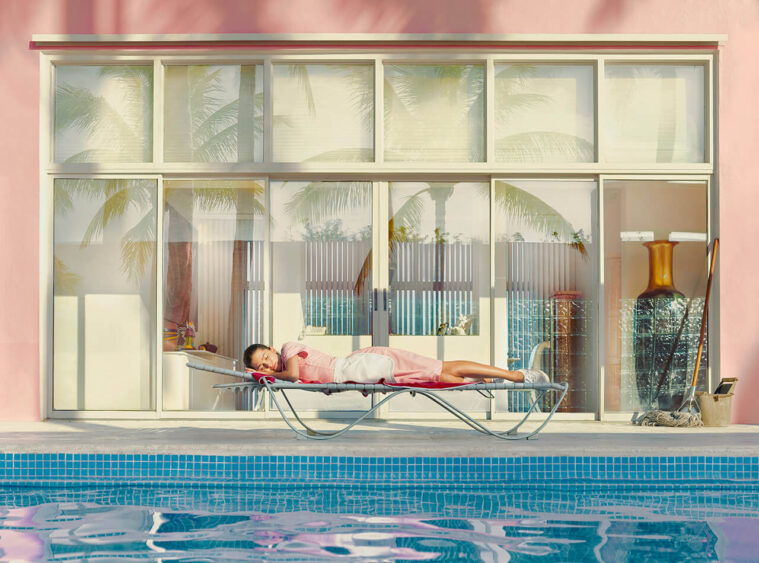 "This is a house in Miami where [the TV show] Miami Vice used to film [fashion shoots and commercials also used it as a backdrop]. In another shot from this concept, the model that we use looks a little sinister as she cleans this big, beautiful home. So, there's a juxtaposition between the worker and the gluttonous kind of luxury mansions."
[Note: In his artist statement about the featured Pink Dreams image (above), West describes the housecleaner at peace while sleeping poolside in a chaise lounge—"a reprieve from her current reality, perhaps dreaming about a more prosperous future."
Luis (The Wrangler) #1 (from "The Palms" series): "We shot this at a home in Boca Raton. When I told the scouts representing the house there was an alligator concept, they laughed. A year before, a commercial photographer and film production company did an insurance ad at the same house using baby alligators. At the end of the shoot, several of the babies were unaccounted for. A few days later, they found the missing alligators, including one under the neighbor's car.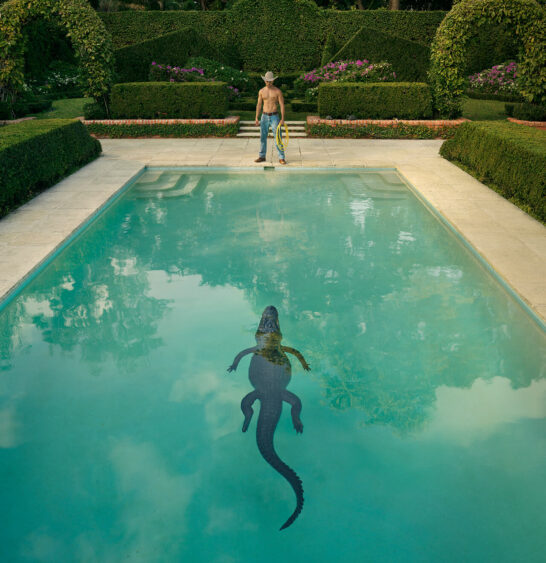 "Part of this is a juxtaposition to what we believe an alligator wrangler should look like. What I like to do is take a narrative and use a cinematic approach to make it more aesthetically pleasing. Why cast the Everyday Joe when you can cast Leonardo DiCaprio? Just because you wrangle alligators, it doesn't mean you can't be beautiful. Along the way, it makes the scene more challenging for the viewer.
"The symmetrical image of the wrangler overlooking the gator became one that the collectors loved. I go into a shoot with staunch ideas of what I think is going to work. But part of what I do is like being a chef. If you have all the ingredients to make a special dish, you can sometimes pivot and have fun in the kitchen. I had the right crew, the right lighting, and I was feeling the vibe of the day. So, we tried different angles. This shot was not part of the plan, but it turned out beautifully with the lush greens, the perfect symmetry and the last-minute light of day."
Beverly Hills Gallery, Feb. 25, 2016: "During the period where I was focused on memory construction (see Orient Point Ferry), I was in Los Angeles and really wanted to see this exhibition in Beverly Hills by an artist named Alex Israel. But I couldn't make it. So, I ended up scouring all the content that had come out, and from the photographs of the show, you could see it was such an experience of people-watching.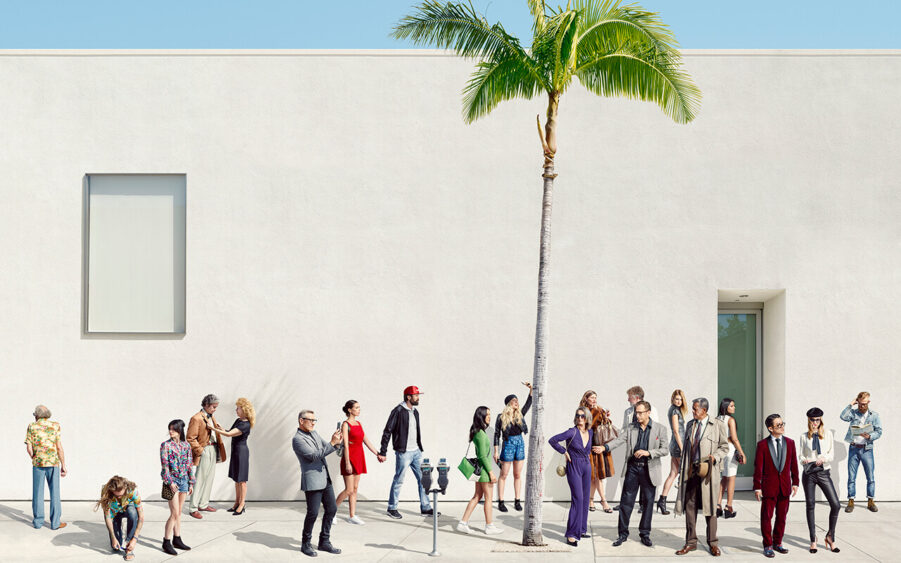 "I decided to cast a ton of people and try to recreate that feeling you get when you enter a gallery exhibition. So, I'm making a photograph about another exhibition—and I'm making it for my own exhibition. In that sense, it does become a little meta.
"Everybody here is in their own little world. Isn't that so Los Angeles? I don't want to say that they're all narcissistic, but there's a lot of focus on the self out there." (West laughs)
Orient Point Ferry (2016): "This project was about how we construct memories. There's a lot of that in the works I produced between 2015 and 2020. I was diving deep into how our memory kind of deconstructs and reconstructs recollections.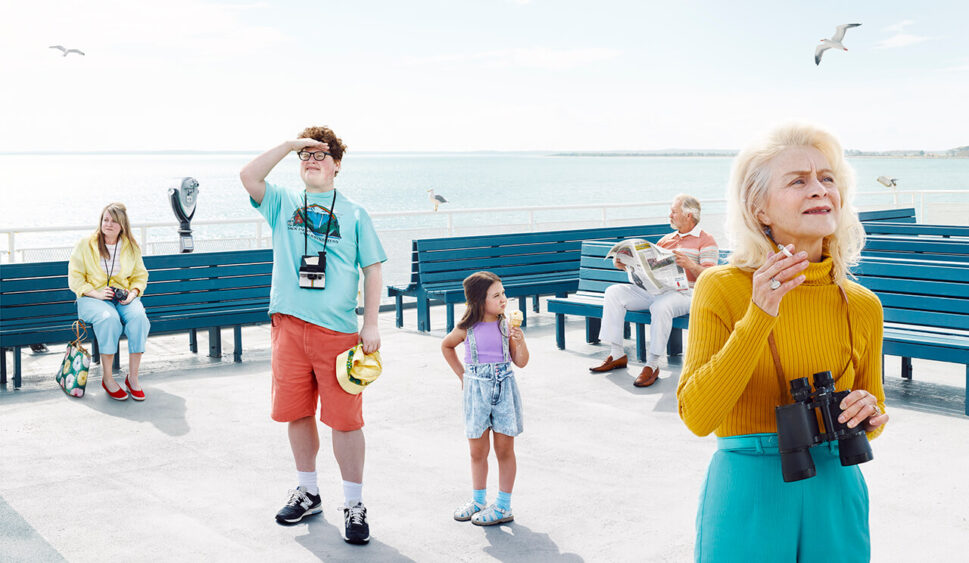 "When I was living in Toronto and going to New York, I would take the Orient Point Ferry from Connecticut to Long Island. I have so many images of different people I would see on that ferry. Whatever I could do to recreate a memory is what I was doing during that period. And being on the Orient Point Ferry was one of those ones that I wanted to revisit.
"Coming from Australia, America had this different style about it. There was this tourism, resort-wear vibe that, for some reason, really stood out to me. We worked with stylists to evolve that kind of 1980s and '90s feeling here. We actually shot the talent for this on a rooftop in Los Angeles with the same flooring, and then put them into that scene."