56 companies have spent an estimated $20 million on crypto lobbying in the U.S., with America's biggest digital asset exchange Coinbase leading the pack during 2023. 
As of Nov. 21, crypto lobbying spending in 2023 had nearly rivaled numbers recorded during 2022 due to growing agitation from industry stakeholders and participants for clearer rules that protect U.S. investors without kneecapping domestic digital asset innovation.
Coinbase was the leading crypto advocate in Washington D.C., with over $2 million spent in 2023 so far, and more than $7 million directed towards lobbying policy makers since 2019 according to Coingecko data. 
Other top spenders in that time, 2019 to 2023, include the Blockchain Association, XRP issuer Ripple, crypto.com and Binance with a combined total of over $10 million. Binance, Coinbase and Ripple have all faced enforcement actions from watchdogs like the Securities and Exchange Commission (SEC).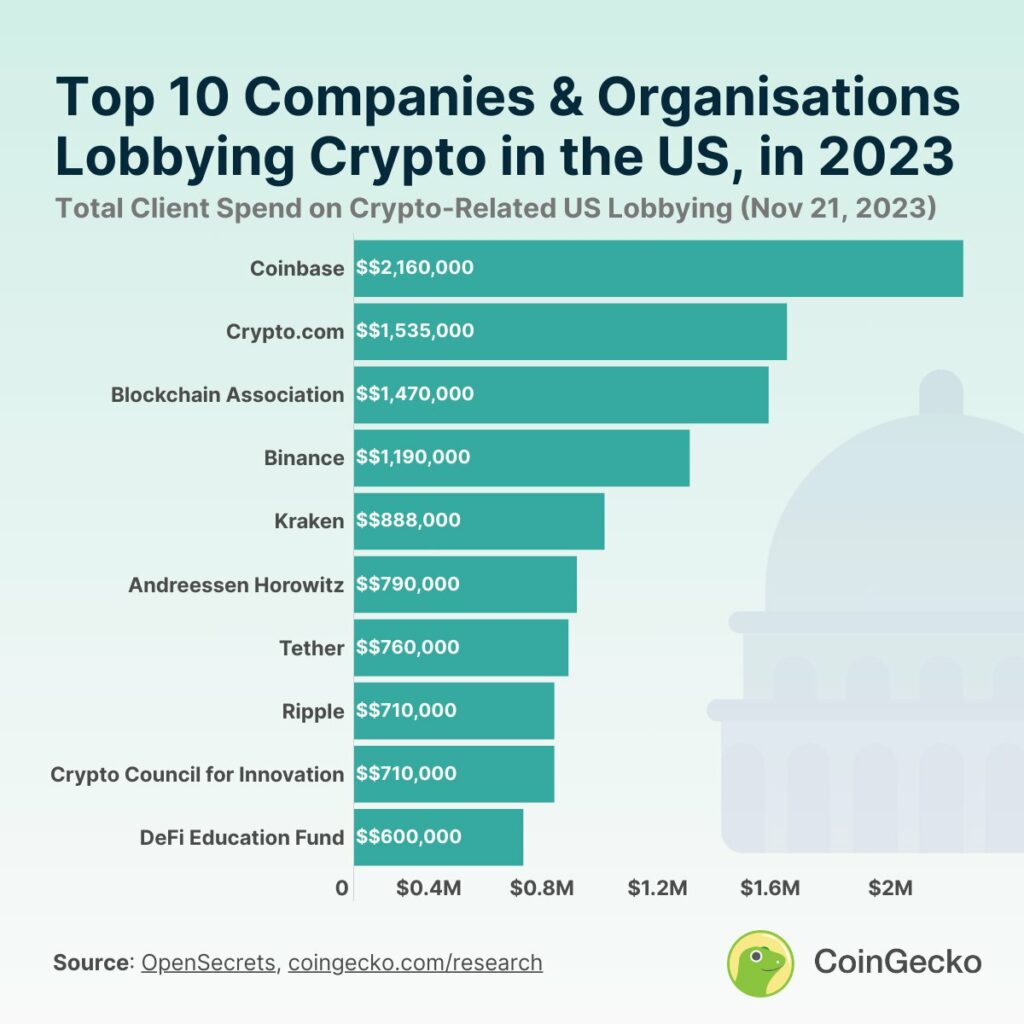 Also in 2023, the top-10 companies have contributed more than half of crypto's total resources deployed towards supporting friendly regulatory policies. The number of lobbying entities increased from 19 to 56.
2023 was also on course to overshadow the previous year as the biggest year for crypto lobbying in terms of finances used, with 2022 reporting around $22 million from 57 organizations.
Coinbase has reportedly increased efforts to engage lawmakers on crypto regulations, coinciding with an exodus from the U.S. due to uncertainty around policies for the nascent digital asset industry. 
The crypto exchange secured four national security experts for its Global Advisory Council to expand on the pitfalls caused by a lack of crypto regulations. Additionally, the 'Stand With Crypto' initiative backed by Coinbase raised $2 million to amplify crypto voices on Capitol Hill.