The number of Dogecoin wallets holding over $1 million has nearly halved this year, registering a 40% decline since last November. 
The number of Dogecoin (DOGE) millionaires has declined by more than 40% year-to-year, according to data from BitInfoCharts. Despite the meme coin's 30% surge in a month, it's still over 10% short of its value from last November, a massive 90% off from its all-time high back in 2021. This rather steady decline over the past two years could be a key reason why DOGE millionaires are becoming scarce. 
In 2022, over 1,000 Dogecoin addresses held more than $1 million in value. As of November this year, this figure has fallen to 635.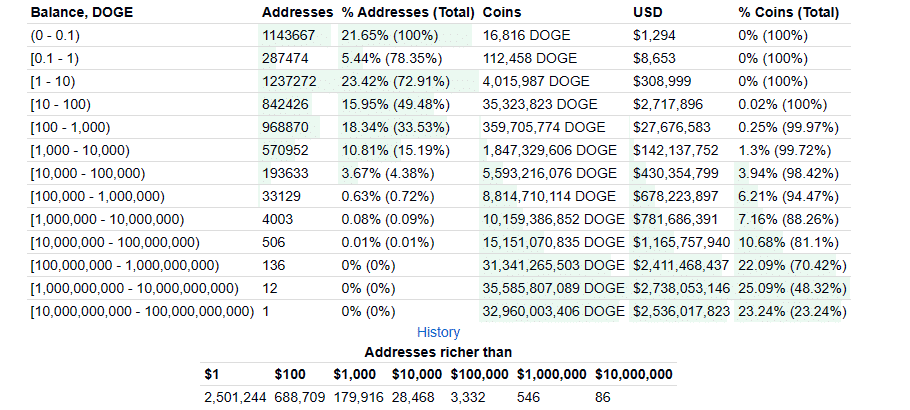 Breaking down these numbers, 548 of these addresses currently hold at least $1 million in Dogecoin, while 87 of them have balances exceeding $10 million. This reduction in high-value holdings reflects the broader decrease in Dogecoin's market price, which has nearly halved over the year, plummeting from $0.15 to $0.08.
Notably, the number of Dogecoin addresses with holdings above $1 million has declined from 887 to 548. Similarly, the number of addresses with over $10 million in DOGE has been reduced from 160 to 87.
Vanishing confidence in meme coins
This downturn mirrors a wider trend in the meme coin market, such as Pepe (PEPE), Shiba Inu (SHIB), and Floki (FLOKI), which have also seen diminished interest. Pepe, despite being up by a massive 94% in a month, has seen many investors exiting. 
These statistics drive a wider concern about the long-term prospects of meme coins. Earlier this year, a study by Chainplay revealed that nearly 70% of crypto investors invest in meme coins for fun rather than having a HODL perspective.