GROK raced to a $100 million market cap in under two weeks as traders speculated on the coin spurred by Elon Musk's AI endeavor.
Eight days after its debut, one of the GROK-named tokens, $GROK, has achieved a sizable market capitalization of over $120 million across decentralized exchanges, according to data from DEXTools.
The token shares a name with Grok AI, an artificial intelligence platform launched by Elon Musk and his social network X, formerly Twitter. However, it's not related to the project, same as other tokens.
As of Nov. 13, $GROK token boasted some 11,000 holders, with the top five wallets valued at roughly $25 million.
Trading volume for the AI-inspired crypto also surpassed $28 million, although liquidity sat under $2 million at press time. This means a significant sell order could theoretically trigger a massive decline in GROK's market price.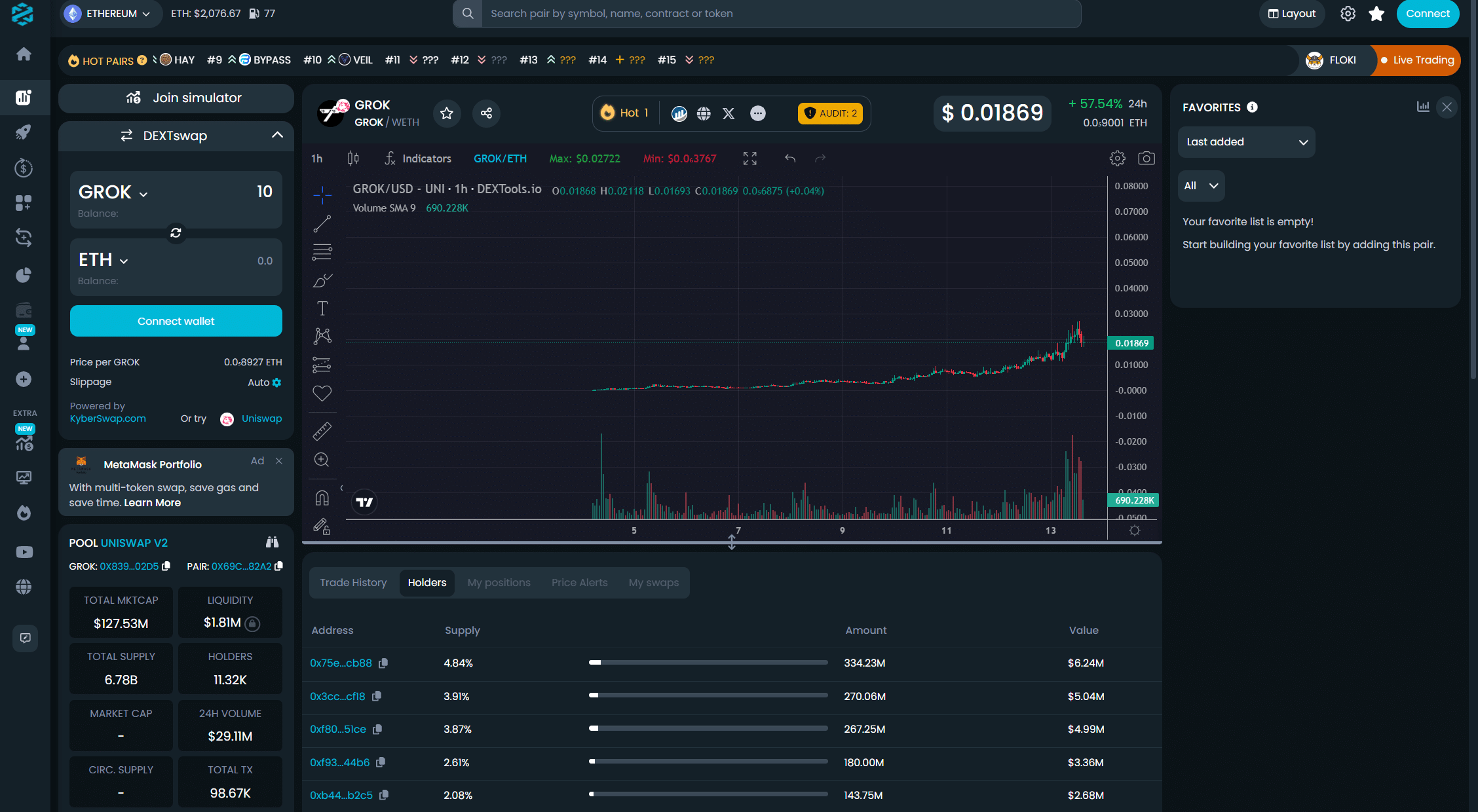 However, the data is not yet confirmed by other crypto stats websites, such as CoinMarketCap and CoinGecko— the last one hints at $133 million in fully diluted valuation.
The token is one of several cryptocurrencies launched on Nov. 6, shortly after billionaire Elon Musk announced his so-called OpenAI competitor. Several of these coins have fallen short of expectations, either stalling in price movements or turning out to be rug pulls. 
Launching tokens incentivized by trends and personalities is not uncommon within the crypto ecosystem, which has seen its fair share of memecoin mania and "degenerate" trading frenzies. From hamster racing to Pepe-the-frog-theme altcoins, participants seemingly crave speculative plays where a few bucks could grow into thousands overnight. 
In July 2023, a pseudonymous developer released a token dubbed BALD on Coinbase's L2 network Base. 
BALD was inspired by the haircut of Coinbase CEO Brian Armstrong and surged over 40,000% in two days, raking in massive gains for buyers and skyrocketing Base's blockchain activity. 
Holders were left with worthless tokens hours later as the dev pulled liquidity in an apparent exit scam, causing the token to plunge in price and kickstarting a manhunt for the creator's identity.