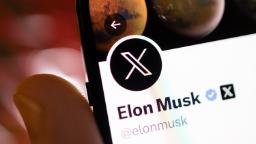 Elon Musk's X Corp., the parent company of the platform formerly known as Twitter, on Friday sued California's attorney general over the state's new content moderation law.
California Gov. Gavin Newsom signed bill AB 587 into law last September. The law requires social media companies to post their terms of service online and submit a semiannual report to the state attorney general outlining their content moderation policies and practices. Platforms must, among other things, disclose how their automated content moderation systems work, how they define controversial content categories such as "hate speech" and "disinformation," and the number of pieces of content flagged or removed in such categories.
Newsom's office touted the bill as a way to improve transparency from social networks. But in a complaint filed in California's Eastern District Court against California Attorney General Robert Bonta, X alleged that the law violates the First Amendment and California's constitution by potentially compelling the company to moderate users' politically charged speech.
The law "compels companies like X Corp. to engage in speech against their will, impermissibly interferes with the constitutionally-protected editorial judgments of companies such as X Corp., has both the purpose and likely effect of pressuring companies such as X Corp. to remove, demonetize, or deprioritize constitutionally-protected speech," the company alleged in the complaint. It added that the law could place an "undue burden" on social media companies such as Musk's X, which is headquartered in California.
Attorney General Bonta's press office said in an email to CNN: "While we have not yet been served with the complaint, we will review it and respond in court."
A spokesperson for Newsom sent CNN a statement from February in which the governor remarked on the bill.
"As a father of four children, and the Governor of the nation's most populous state, I am passionate about our state's efforts to lead this fight for children's online privacy. No other state is doing more than California to protect kids – shielding them from harmful data mining, violent content, and automatic GPS tracking that allows adults to track down kids. I was proud to sign the bill last year to put California kids first, and I'm ready to vigorously defend it now," Newsom said in the statement.
The lawsuit comes as Musk has escalated his rhetoric over what kinds of speech should be permitted on his platform, as the company's core advertising business has taken a major revenue hit over concerns, among other things, about the approach to content moderation. Under Musk's leadership, the platform has made several changes to its content policies, including ceasing enforcement of its Covid-19 misinformation policy and reinstating many previously banned users.
Just last month, at least two brands paused their ad spending on X after their advertisements ran alongside an account promoting Nazism. (X suspended the account after the issue was flagged and said ad impressions on the page were minimal.)
The billionaire this week threatened a lawsuit against the Anti-Defamation League for defamation, claiming that the nonprofit organization's statements about rising hate speech on the social media platform have torpedoed X's advertising revenue. (The ADL says it does not comment on legal threats, but CEO Jonathan Greenblatt spoke out against the #BanTheADL campaign on X.)
In Friday's lawsuit, X Corp. alleged that requiring social media companies to report their moderation practices could pressure the platforms into "limiting or censoring constitutionally-protected content that the State finds objectionable." It also claimed that the law could force social platforms "to take public positions on controversial and politically charged issues" and thus tailor those positions in a way it otherwise wouldn't to avoid public scrutiny.
The law "'compel[s]' X Corp. to 'speak a particular message,' which necessarily 'alters the content of' its speech,'" in violation of its First Amendment rights, the company alleges in the complaint.
The lawsuit seeks a jury trial on the constitutionality and legal validity of the California law.