Altcoins linked to Sam Bankman-Fried see a significant surge, as the FTX token soared over 200% in a week.
Despite the recent conviction of Sam Bankman-Fried on multiple counts of fraud and conspiracy, the altcoins closely associated with the FTX founder saw a major upswing during this week's market rally. The so-called 'Sam Coins' have seen major gains this week, despite the negative sentiment around them throughout the month-long trial. 
Leading the charge in this altcoin resurgence is FTX's proprietary token, FTT, which has seen a meteoric rise of 200% in a week and a 75% increase in just 24 hours. Speculation around the potential revival of FTX, spurred by acquisition interests from companies like Bullish, seem to be fueling investor optimism.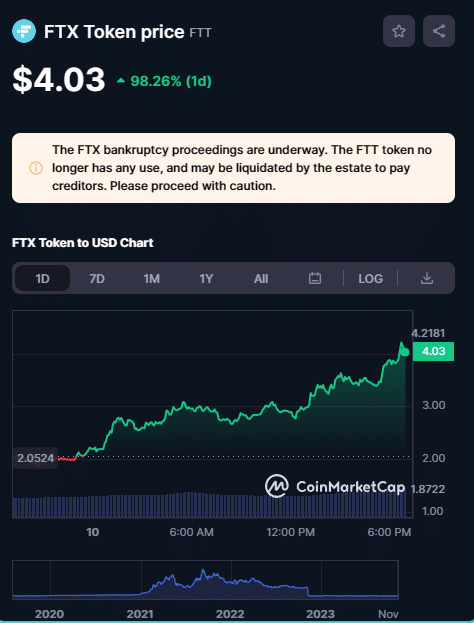 The silver lining for 'Sam Coin' holders
Other cryptocurrencies that Bankman-Fried supported, such as Serum (SRM), Oxygen (OXY) and Maps (MAPS) have also experienced significant growth, despite less clear narratives driving their rallies. Serum's SRM token, heavily promoted by Bankman-Fried, has increased over 33% in the past week. Maps.me's MAPS token, another beneficiary of the FTX founder's investment, has risen 14% in 24 hours.
Oxygen, another venture supported by Alameda Research, saw a minor dip on Friday but has maintained an overall weekly gain exceeding 25%.
While the broader altcoin market, including Ripple (XRP), Cardano (ADA) and Dogecoin (DOGE), has also seen gains, the increases have been modest in comparison, not surpassing 5% over the same 24-hour period.
Notably, Solana stands out among the Bankman-Fried affiliated coins, showing a remarkable 214% increase since November 2022, even as others like OXY, MAPS and SRM remain in the negative over the year, despite the recent rally.
Analysts attribute this renewed 'risk-on' sentiment in the crypto markets to a combination of factors, including optimistic projections for Bitcoin and Ethereum ETFs and speculation that the Federal Reserve's rate hikes might be plateauing. This has led to significant gains for Ether and Bitcoin rising 15.5% and 7% respectively over the last week, although the two have been overshadowed by the leaps in smaller tokens.