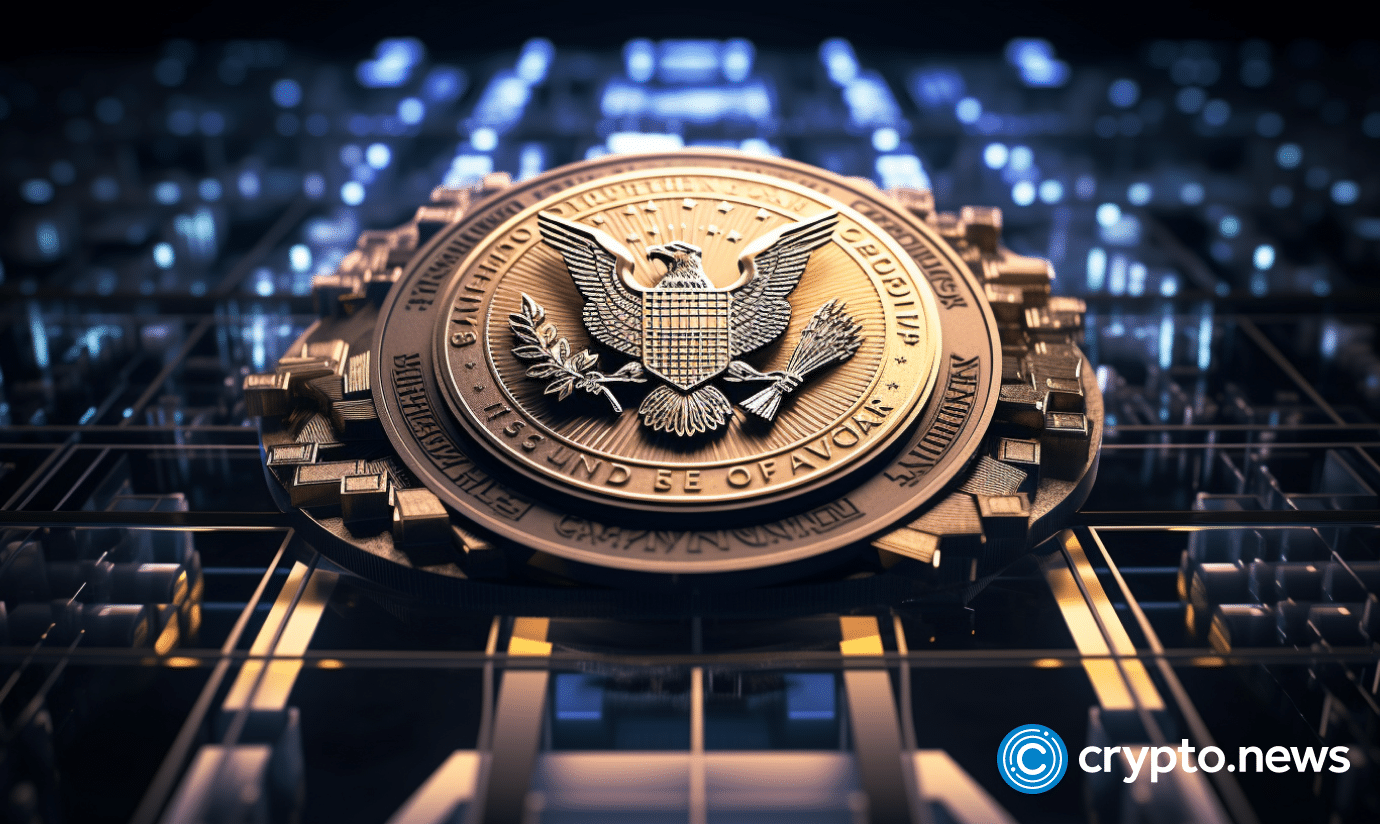 This week, Grayscale triumphed in a high-stakes battle against U.S. regulators, while developments emerged regarding spot-based BTC ETF applications. Amidst these events, football star Ronaldinho found himself embroiled in a crypto controversy.
Grayscale secures victory 
Grayscale's legal triumph over the U.S. Securities and Exchange Commission (SEC) seized the spotlight this week. In a groundbreaking decision by a federal court in Washington, Grayscale received the green light to introduce a spot-based BTC ETF in the U.S.
This judicial action overturned the SEC's previous denial of Grayscale's proposal, deeming it irrational and unjustified. The development ignited a surge of optimism within the crypto community, catalyzing an upswing in the market.
Despite the market's positive response, Bitcoin critic Peter Schiff expressed a note of caution regarding the implications of Grayscale's legal triumph. He voiced concerns about potential repercussions when Grayscale transitions its GBTC fund into a spot Bitcoin ETF.
Schiff noted that currently, traders have the ability to purchase GBTC and subsequently sell or engage in shorting Bitcoin. He explained that once GBTC completes its transition to an ETF, the discount in relation to its net asset value would cease to exist. This could result in moves that would pump more BTC into the market.
SEC comes under fire
In a development on Capitol Hill, U.S. Congressman Warren Davidson, representing Ohio, once again called for the dismissal of SEC Chair Gary Gensler. 
This followed the court ruling that favored Grayscale, which Davidson believes adds weight to the argument that Gensler's actions at the SEC are inconsistent and unreasonable. Grayscale's victory marked the second legal setback for Gensler in a two-month span.
In addition, Vivek Ramaswamy, a Republican candidate in the U.S. presidential race recognized for his pro-crypto stance, endorsed the judicial decision that favored Grayscale. He perceives this triumph as a pivotal moment for the evolution of the United States' web3 sector.
Ramaswamy criticized what he sees as an overextension of regulatory authority by government entities. He contended that the court ruling could serve as a catalyst for the progress of BTC and blockchain in the U.S.
Furthermore, Ramaswamy made a commitment to thoroughly assess federal regulations, ensuring their alignment with the standards established by the Supreme Court, with the overarching goal of fostering innovation within the nation.
Enhanced optimism
According to an analysis by Eric Balchunas and James Seyffart, esteemed ETF experts at Bloomberg, the prospects of the SEC granting approval for a Bitcoin spot ETF have brightened in the wake of Grayscale's legal victory. 
This week, they disclosed that the chances of approval in 2023 have increased to 75%, a notable upswing from the prior estimate of 65%. Intriguingly, they also anticipate a highly favorable 95% likelihood of the SEC endorsing the ETF in 2024.
SEC sustains enforcement
In addition to its legal setback in the Grayscale lawsuit, the SEC also captured attention this week due to several significant developments. Despite the recent slew of legal losses, the SEC persisted in its enforcement actions.
On Aug. 28, the SEC initiated legal proceedings against Impact Theory, a Los Angeles-headquartered media firm, over its participation in what the regulatory body has characterized as an unregistered NFT offering. This marked the SEC's first enforcement within the NFT scene.
Remarkably, Impact Theory secured approximately $30 million in funding from a wide-ranging array of investors throughout the U.S. through the NFT project.
The SEC implemented new regulations targeting the private funds industry on Aug. 30, but industry leaders believe they shouldn't disrupt crypto companies. These rules primarily affect private equity, hedge funds, and some venture capital funds.
Crypto firms, if compliant with evolving regulations, are expected to manage the impact. These rules introduce closer scrutiny of fees and require annual fund audits but allow for a pass-through fee structure. However, smaller crypto fund managers may face increased costs.
SEC Commissioner Hester Peirce is concerned about the rules' impact on investor negotiation power, while SEC Chair Gary Gensler sees them as a means to boost transparency, integrity, competition, and efficiency in private equity and hedge funds.
Meanwhile, Ripple took a firm stance against the SEC's claim that XRP lacks internet value, and is merely computer code. This assertion, formally stated in a court submission on Sep. 1, aimed to emphasize XRP's unique position in the crypto scene.
In contradiction to the regulator's interpretation, Ripple stressed that the recent ruling which stated that XRP is not a security did not declare the asset as mere computer code.
A case of indecisiveness 
As the crypto community increasingly focused on the unfolding events related to pending spot Bitcoin ETFs, the SEC opted to review the multitude of applications awaiting their consideration before the Labor Day weekend.
Numerous companies had submitted applications for ETFs centered on spot Bitcoin, among them BlackRock, Bitwise, WisdomTree, VanEck, and Invesco. Despite the SEC's announcement, industry observers maintained a skeptical outlook regarding the prospects of imminent approvals.
Subsequently, reports emerged indicating that the SEC had decided to postpone its verdict on the ETF applications. The SEC chose to extend the evaluation period by an additional 45 days to conduct a comprehensive assessment of the proposed rule modifications. 
This extension affords the regulatory entity until October 2023 to make a determination, whether it be approval, rejection, or an announcement of further deliberation.
Notably, Bitwise's application remains unaffected by this delay, as the agency is expected to provide an update by Sep. 1. The CEO of Bitwise conveyed the notion that it is now opportune to advance the discourse surrounding a Bitcoin ETF, following a decade-long wait.
Bitwise withdraws ETF application
However, in a surprising turn of events, Bitwise opted to retract its application for a Bitcoin and Ethereum Market Cap Weight Strategy ETF, a filing initially submitted to the SEC on Aug. 3.
Bitwise's Chief Investment Officer, Matt Hougan, had previously supported crypto ETFs. The proposed ETF was designed to allocate investments into Bitcoin or Ethereum futures contracts.
Bitwise was concurrently collaborating with ProShares on an additional ETF initiative. The firm announced its decision not to pursue the Fund's effectiveness any further, with no securities having been offered for sale. 
Ronaldinho embroiled in crypto scam
Meanwhile, scams remained in the spotlight this week, with an intriguing case involving the renowned football star Ronaldinho Gaúcho.
Ronaldinho could potentially face incarceration over his alleged connection to a cryptocurrency scam. His failure to attend a hearing regarding his suspected involvement in a pyramid scheme has prompted Brazilian authorities to consider his arrest.
The authorities summoned Ronaldinho to testify on Aug. 24, but cited terrible weather conditions as the reason for his absence. Congressman Aureo Ribeiro granted him another opportunity to testify on Aug. 31. However, if he fails to appear once more, the authorities may take legal action against him.
The firm 18kRonaldinho, operated by Ronaldinho, a business partner of his, Marcelo Lara, and his brother, Assis, is under suspicion of involvement in a cryptocurrency scam resembling a pyramid scheme.
However, on Aug. 31, Ronaldinho seized the second chance handed to him to clear his name. The football legend denied ties connecting him with the firm 18kRonaldinho. According to him, the company leveraged his image and exploited his popularity without his consent.