[ad_1]

When orchestrating the interior design of a home, no matter the size or the location, there are several common tenets to adhere to. It's important to acknowledge who will be inhabiting and enjoying the residence and what specific feeling the homeowner would like to experience when they enter the living spaces. For South Florida-based designers DawnElise Hamilton and Jeannette Gonzalez, fixtures in the local design industry for years, making sense of these elements comes naturally. To understand the process behind Hamilton and Gonzalez' techniques, we've deconstructed three rooms and one outdoor living space that were recently completed.
Entertainment Room
Positioned directly on the sand in the picturesque enclave of Lauderdale-by-the-Sea, this townhouse is a special property, boasting three bedrooms and four full bathrooms and one half-bath. In what Hamilton—president and principal designer at DawnElise Interiors in Oakland Park (dawneliseinteriors.com)—called a "total gut remodel," she envisioned a residence with "a contemporary feel that is also durable and can withstand the demands of an oceanfront home."
Design style: Fashion-forward and sophisticated
Furnishings: Sleek and handsome, this custom pool table functions as a hub for hanging out while a patchwork cowhide rug provides a soft framework underfoot. A wet bar with plenty of cabinetry is the ideal spot for mixing cocktails and prepping snacks for hungry competitors.
Lighting: Visual Comfort's Strada chandelier by Kelly Wearstler twinkles overhead.
Walls: NLXL's Rough Concrete wall covering evokes a cool industrial feel.
Foyer
This chic entryway leads to the main living area of a condo in Fort Lauderdale Beach that has three bedrooms and three bathrooms. It was Hamilton's second time working with the client, a couple who has a penchant for collecting art. Therefore, even in the foyer, highlighting unique fixtures and furnishings was essential.
Design style: Tropical contemporary
Furnishings: To create an area that is elegant and modern, Hamilton floated a mirror by Sovet Italia above a stainless-steel console by LexMod. A candy-colored rug by Angela Adams adds a pop of color, and a fiery piece of artwork by  Jennifer Haley hangs beside the doorway.
 Lighting: Recessed lighting throughout the space casts a calming glow.
Walls: Benjamin Moore's Black Bean Soup envelops the space to create a moody feel.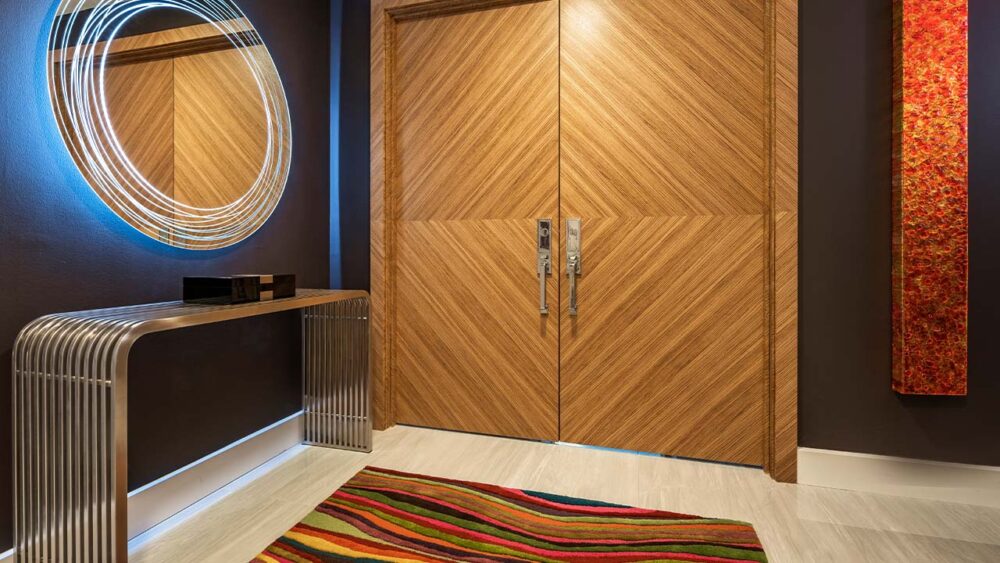 Bedroom
Situated on the penthouse floor of a Miami Beach condo, this home has three bedrooms and four bathrooms, as well as a rooftop deck. According to Gonzalez—principal at Opzioni Design in Weston (opzionidesign.com)—"the clients are art collectors, so it was important to conjure an eclectic ambience and a gallery-like feel while making the stunning ocean views a focal point."
Design style: European modern
Furnishings: Gonzalez kept the furniture minimal, as the space is focused on a sweeping view of the ocean; the leather bed is from Addison House and a single Tulip armchair by Cierre offers a cozy spot for relaxing.
Lighting: An elegant, beaded chandelier by Allegri Crystal infuses the space with a sophisticated vibe.
Flooring: The neutral light wood floor is topped with a silk rug.
Walls: A custom geode-inspired wall covering in shades of purple stretches to the ceiling, creating depth. The mirrored ceiling further expands the room.
Outdoor Deck
For the same penthouse project in Miami Beach, Gonzalez was tasked with bringing this outdoor space to life.
Design style: Clean and modern, highlighting the ocean vistas
Furnishings: A sofa with a coordinating coffee table and a pair of chaises from Belamo Patio Furniture allows for frequent lounging, offering several spots for curling up with a good book or napping.
Lighting: At night, a trio of planters by Vondom emit ambient light. Gonzalez also integrated lighting into the walls for a soothing feel.
Flooring: Gonzalez worked with Pembroke Pines-based Syntech Turf to cover a portion of the deck with artificial grass.
Walls: A faux green wall extends behind the elevated swimming pool, allowing for privacy while saturating the space with vibrant greenery.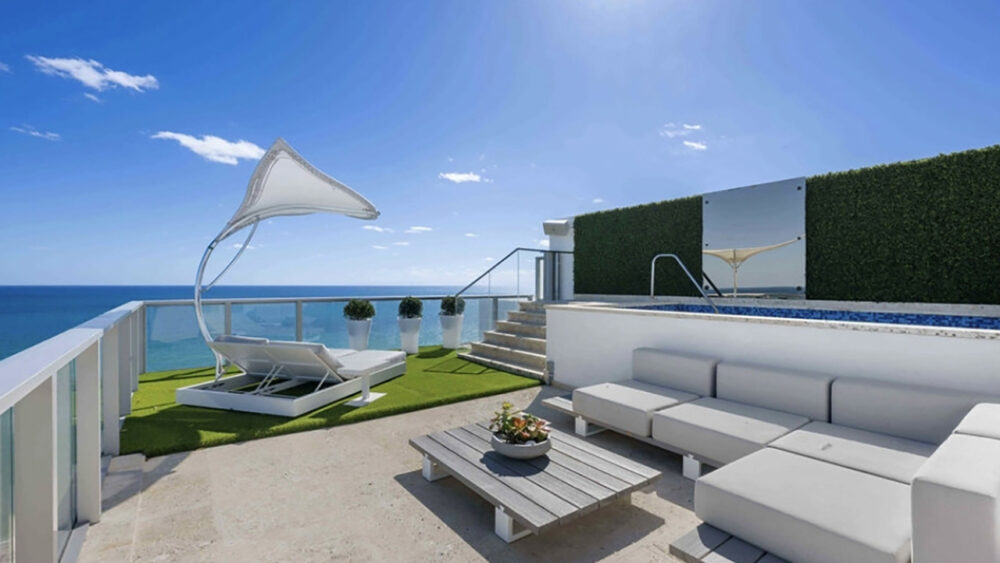 [ad_2]

Source link