Kaiko, a crypto analytics platform, claims that the largest stablecoin by market cap, USDT, has been depegging in August.
A stablecoin depegs when it trades below the fiat currency or asset it's meant to mirror.
Kaiko data shows that on Aug. 7 at 8 am UTC, USDT hit a 98% depeg severity, meaning that stablecoin traded at a discount on almost every platform.
However, the depeg didn't receive much attention since it wasn't as significant or dramatic as previous events.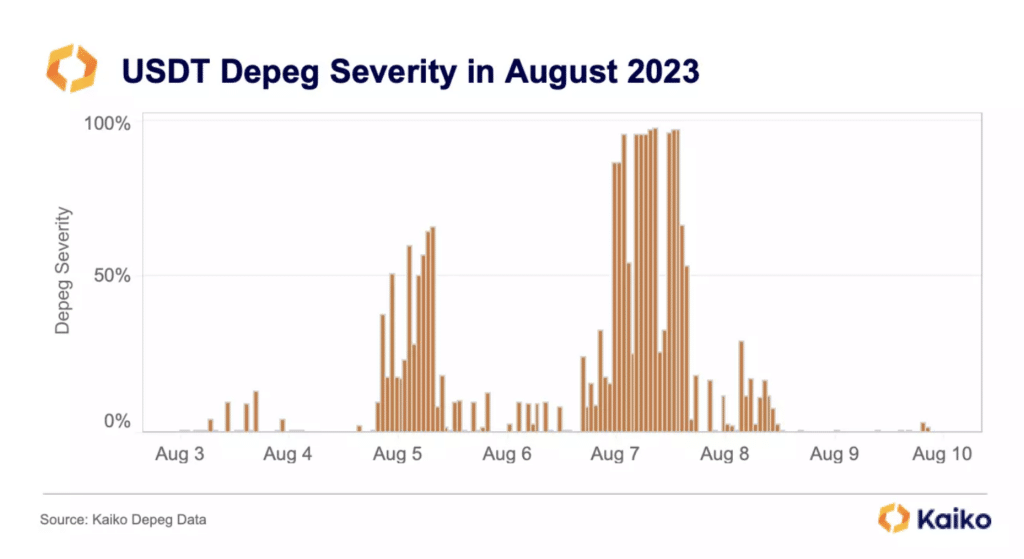 Kaiko says the depeg in August follows rapid net selling of USDT worth $500 million across Binance, Huobi, and Uniswap within a few days.
Historically, recurring USDT depegging has been attributed to several factors like the redemption fee, lowered liquidity, and minimum requirements set by Tether Holdings, the issuer.
However, Kaiko highlights that continual discounts could erode the trust in the world's largest stablecoin.
Kaiko suggests that resolving the depeg concerns could be achieved by removing the redemption fee, leading to lower costs and a reduction in the stablecoin's supply.
Despite reporting $850 million in Q2 2023, the analyst asserts that this change wouldn't notably impact profits.
Kaiko's report is a few months after USDT slightly and briefly depegged in June, dropping to $0.997.