[ad_1]

October marks a significant uptick in cryptocurrency trading, with volumes hitting a seven-month peak driven by major digital asset rallies and ETF speculation.
In a recent update from the cryptocurrency market analytics firm CCData, a notable surge in trading volumes on centralized digital asset platforms was observed for October. This marks a significant change in the trend after a period of reduced trading activity, with the reported volume reaching $632 billion. The increase is a striking 87.2% jump from September's figures.
The analysis from CCData highlighted that the volume of spot trading in October scaled heights untouched since March. Centralized exchanges haven't witnessed such an amount of monthly spot trading since March 2023, with the leap from the previous month being the most pronounced since January 2021.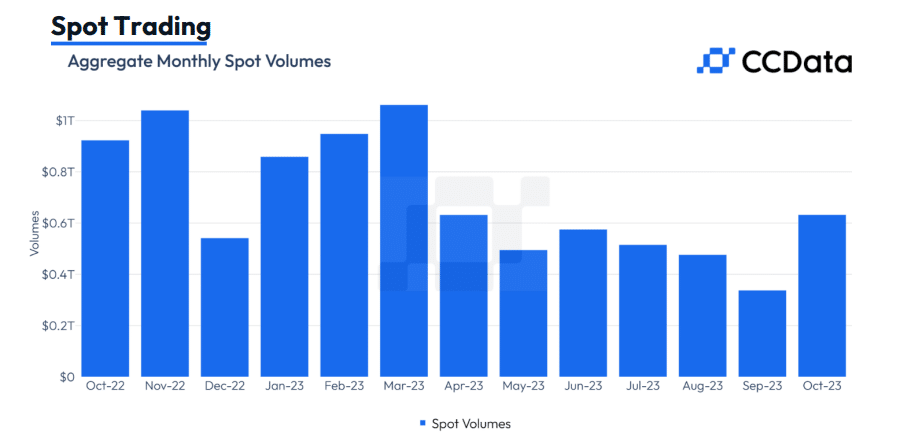 This resurgence in trading activity is seemingly linked to the growing optimism around the approval of a spot Bitcoin ETF, coupled with the positive price movements of leading cryptocurrencies in recent weeks.
Leading the charge in the market's revival, flagship cryptocurrencies such as Bitcoin and ether have experienced a substantial rally beginning in mid-October. Bitcoin, in particular, saw a significant uptick in investment inflows following a misreported approval of a spot Bitcoin ETF on Oct. 16, which sparked renewed vigor in the crypto market.
Analysing the trading volume
The CCData report also broke down the October trading volume based on the exchange tiers. It was found that top-tier exchanges, which include prominent names like Coinbase and Binance, saw an 88.7% increase in spot trading volumes, totaling $426 billion. Meanwhile, the lower-tier exchanges were not far behind, with an 84.3% increase amounting to $207 billion in spot trading.
Over the course of the month, these top-tier exchanges managed to capture a larger share of the market's trading activity, underscoring their dominance in the digital asset exchange space.
[ad_2]

Source link