PancakeSwap's CAKE stands out with a 92% gain on the weekly timeframe, fueled by the introduction of a new feature on its platform. 
PancakeSwap rallies
Decentralized exchange PancakeSwap's native token, CAKE, is causing a stir in the cryptocurrency world. In seven days, CAKE's price has soared by a remarkable 92%, now trading at $2.38. This surge comes after the latest innovation on its platform.
PancakeSwap recently unveiled its Position Manager tool, a feature that's turning heads in the defi space. This tool allows users to effortlessly deposit their funds into a vault, which are then automatically allocated to liquidity pools for yield farming.
This innovative automation enhances capital efficiency, potentially yielding higher returns compared to manual yield farming.
The PancakeSwap team elaborated on the advantages of the Position Manager in a blog post. This tool opens the door to more efficient liquidity provisioning, providing users with a seamless way to increase their yields. It's a prime example of defi evolving to cater to user needs and preferences.
At the time of writing, CAKE is exchanging hands for $2.38, with a 24-hour trading volume of approximately $523,350,958.34, according to CoinGecko.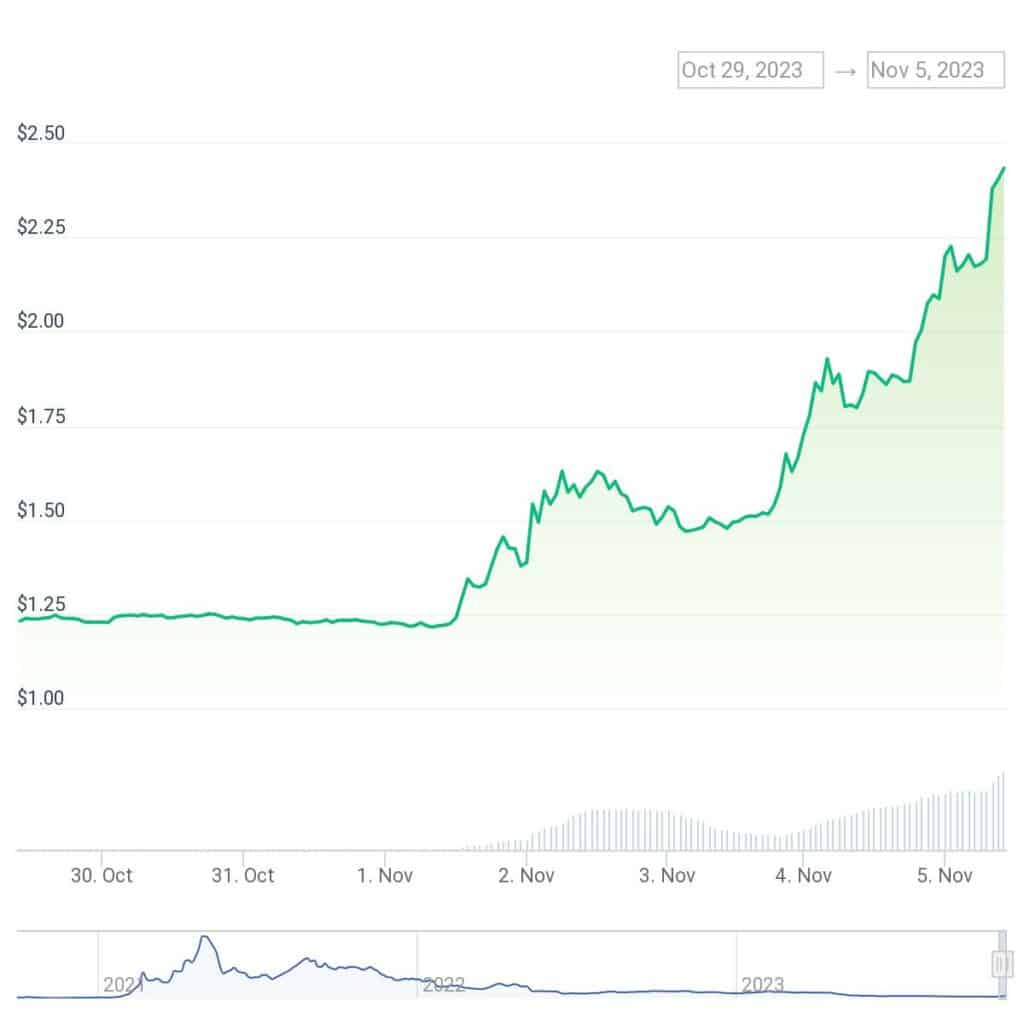 In the last 24 hours, CAKE has witnessed a 32.43% price increase, reflecting the bullish sentiment surrounding this token. PancakeSwap's total market capitalization has reached $553,286,939, reinforcing its strong presence in the defi sector.
Other defi tokens have also experienced positive price changes. Uniswap (UNI) has seen a 12.27% increase over the week, indicating growth in a competitive market.
SushiSwap (SUSHI) has shown a rise of 58.12% during the period, suggesting strong interest and activity within the SushiSwap ecosystem. 
THORChain (RUNE), a defi protocol, has recorded a 34% price increase, solidifying its presence in the space. The Graph (GRT) has seen a rise of 21.62% over the week, demonstrating its appeal to defi enthusiasts.
Ethereum holders hold steady
In addition to these significant price movements in the defi space, Ethereum (ETH) holders have also attracted attention if data from Glassnode is anything to go by. The number of ETH supply that was last active between seven and 10 years ago has reached an all-time high, hitting over 5.3 million ETH. 
This indicates that long-term ETH holders remain committed to their positions and choose not to sell their assets despite fluctuations in the market. On the other hand, the number of addresses holding 1,000+ ETH tokens has dropped to a five-year low with over 6,000 addresses.
This data suggests that whales may not be as interested in accumulating large amounts of ETH as they were in the last five years.