After a brief rally fueled by a favorable court ruling, XRP's price roller coaster continues, with CryptoSea founder Daan de Rover predicting a "gigantic move."
De Rover, who goes by CryptoRover on YouTube, indicated on X — formerly Twitter — that he expects a significant spike in price for XRP.
XRP price analysis
XRP, the digital asset of Ripple Labs, saw its price skyrocket on July 13 by over 80% after a significant courtroom victory over the U.S. Securities and Exchange Commission (SEC). The court ruled that XRP sales on public cryptocurrency exchanges were not offers of securities under the law.
However, the plot thickened in the weeks following this triumph. XRP's price took a hit, shedding a large chunk of its gains. Currently, XRP is trading around 49 cents, representing a 20.9% decline in the last 30 days, according to CoinGecko. 
XRP's support level currently rests at 46 cents, while its weekly Relative Strength Index (RSI) hovers around 35.3, indicating that the price is getting close to the oversold region. See below.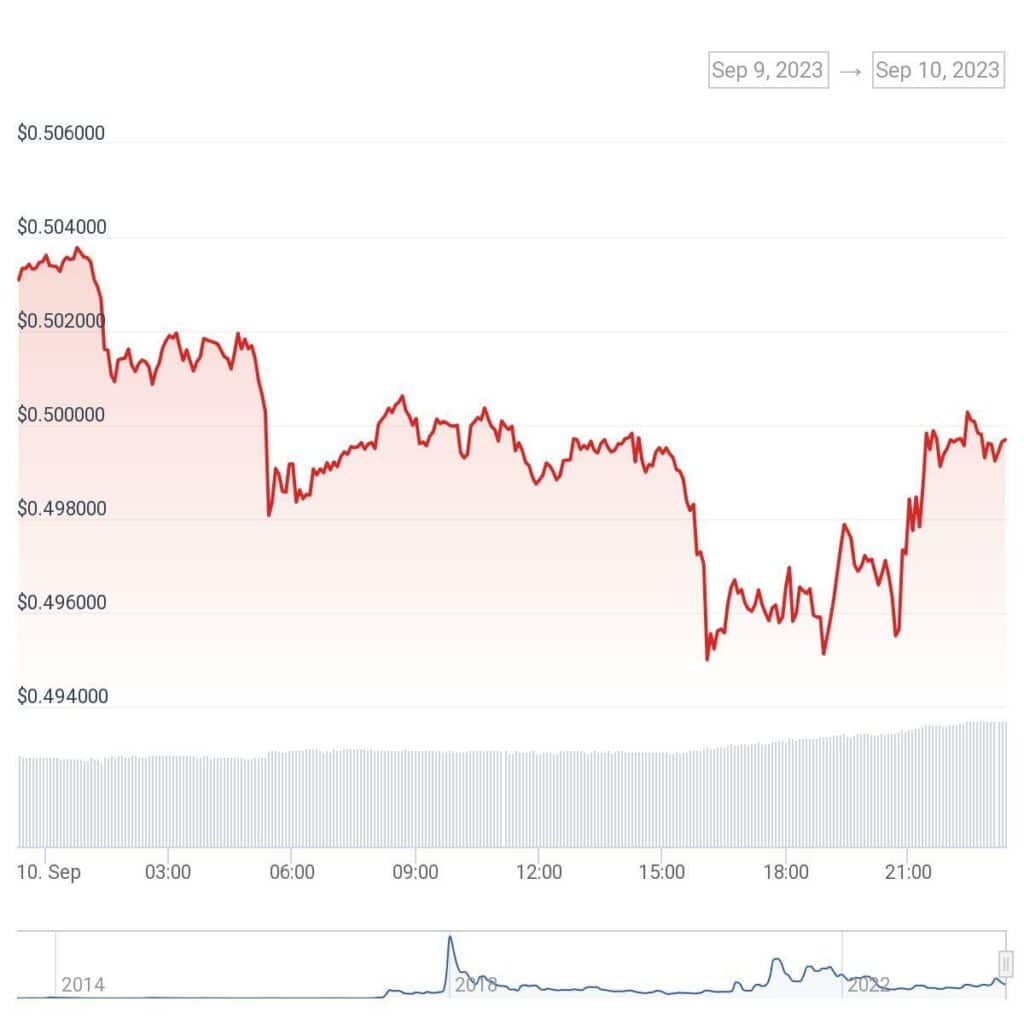 SEC counters
While the crypto community continues to celebrate Ripple's victory, the SEC filed an interlocutory appeal to challenge the court's verdict that XRP doesn't qualify as a security. This appeal sets the stage for another legal showdown, scheduled for the second quarter of 2024, between April and June.
The potential complications arising from the previous court ruling reignite the debate on XRP's security status, leaving the crypto world in suspense.
Ripple is not backing down
In response to the SEC's claims, Ripple made a strong counterargument. They emphasized that the court hadn't ruled that XRP lacked intrinsic value. Contrary to the SEC's interpretation, Ripple asserted that XRP played a crucial role as a bridge virtual asset, facilitating seamless cross-border transactions.
This counterclaim by Ripple adds a new layer of uncertainty to the ongoing XRP debate. It challenges the SEC's narrative and further strengthens investors of XRP who are closely following the debate. 
SEC's uphill battle
The SEC has refused to concede defeat. The dreaded regulator argues that the issues raised by the court's decision in favor of Ripple are complex legal challenges that demand an appeal. The regulator's persistence in this legal battle against Ripple Labs and XRP demonstrates their determination.
The heart of the matter lies in whether XRP was considered a security when sold to institutional investors or retail investors. Ripple, however, maintains that the SEC's appeal lacks merit and doesn't meet the necessary conditions for certification.
If the court rules in favor of XRP, it could trigger a surge in investor confidence, leading to aggressive buying. Conversely, a negative outcome could cast a shadow over XRP's price, causing it to plummet.