Bitcoin reached the $36,780 mark as analysts say the SEC has entered a window to approve all the current applications for spot Bitcoin ETFs.
Although the crypto market expects the U.S. Securities and Exchange Commission (SEC) to approve multiple spot Bitcoin exchange-traded funds (ETFs) by Jan. 10, 2024, there's still a possibility the watchdog might do it even earlier.
In an X post on Nov. 8, Bloomberg Intelligence Research James Seyffart noted that the SEC has entered a brief eight-day window to approve all 12 spot Bitcoin ETFs, including the one submitted by Grayscale Investments.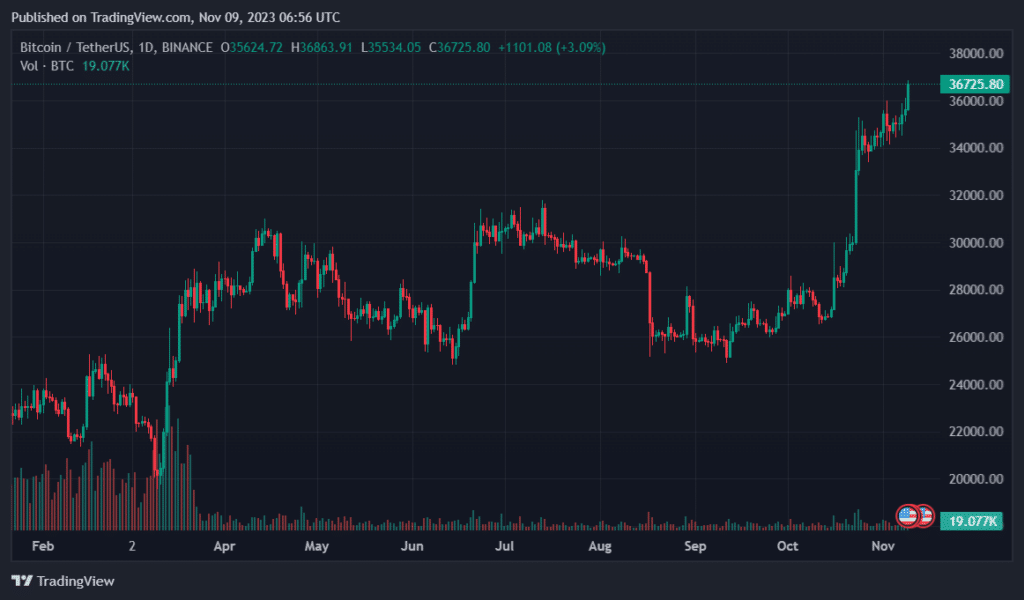 Amid the news, Bitcoin price surged by 5%, surpassing the $36,700 threshold, according to CoinGecko. The cryptocurrency's market capitalization neared $719 billion.
Nonetheless, crypto.news previously reported that Grayscale CEO Michael Sonnenshein said his firm has not yet received any word about approval for spot Bitcoin ETFs from the regulator. Seyffart noted that the SEC could still decide on the first few applications "at any point from now."
"This window for all 12 [ETF applications] ends by 11/17. But theoretically SEC could make a decision on the first 9 on this list at any point from now until Jan 10, 2024."

James Seyffart
Nonetheless, the SEC has way more time to approve all the applications as the final deadline for Franklink's spot Bitcoin ETF is May 30, 2024. Many — if not all — spot Bitcoin ETF applications could eventually be denied, given that SEC Chair Gary Gensler repeatedly addressed issues related to crypto-related financial products on the market.
Moreover, the SEC has a history of rejecting spot Bitcoin ETF applications, a trend that began in 2017 and has continued under Gensler's leadership. Since his appointment in 2021, the SEC has either delayed, denied, or pushed back all such applications, citing investor protection concerns as the primary reason.