An unknown wallet recently transferred a staggering amount of XRP tokens to centralized exchanges Bitstamp and Bitso. 
According to the latest market data revealed by blockchain tracker Whale Alert, a massive 50 million XRP tokens were moved, attracting the attention of investors and traders worldwide.
The unknown wallet (4wf7enWPx…5XgwHh4Rzn) initiated a series of transactions, moving 25.4 million XRP tokens, equivalent to approximately $15.42 million, to both Bitso and Bitstamp.
Such significant transfers to centralized exchanges are usually indicative of an impending sell-off.
While the sell-off coincided with XRP's price slipping by 1.25% on Nov. 4, it has seen an almost 11.5% increase over the past week, reaching $0.611399.
The altcoin peaked close to a local top of $0.62 on Nov. 3. Over the course of the past month, XRP has yielded gains of 17.3% per CoinGecko, displaying the bullish sentiment among retail crypto traders.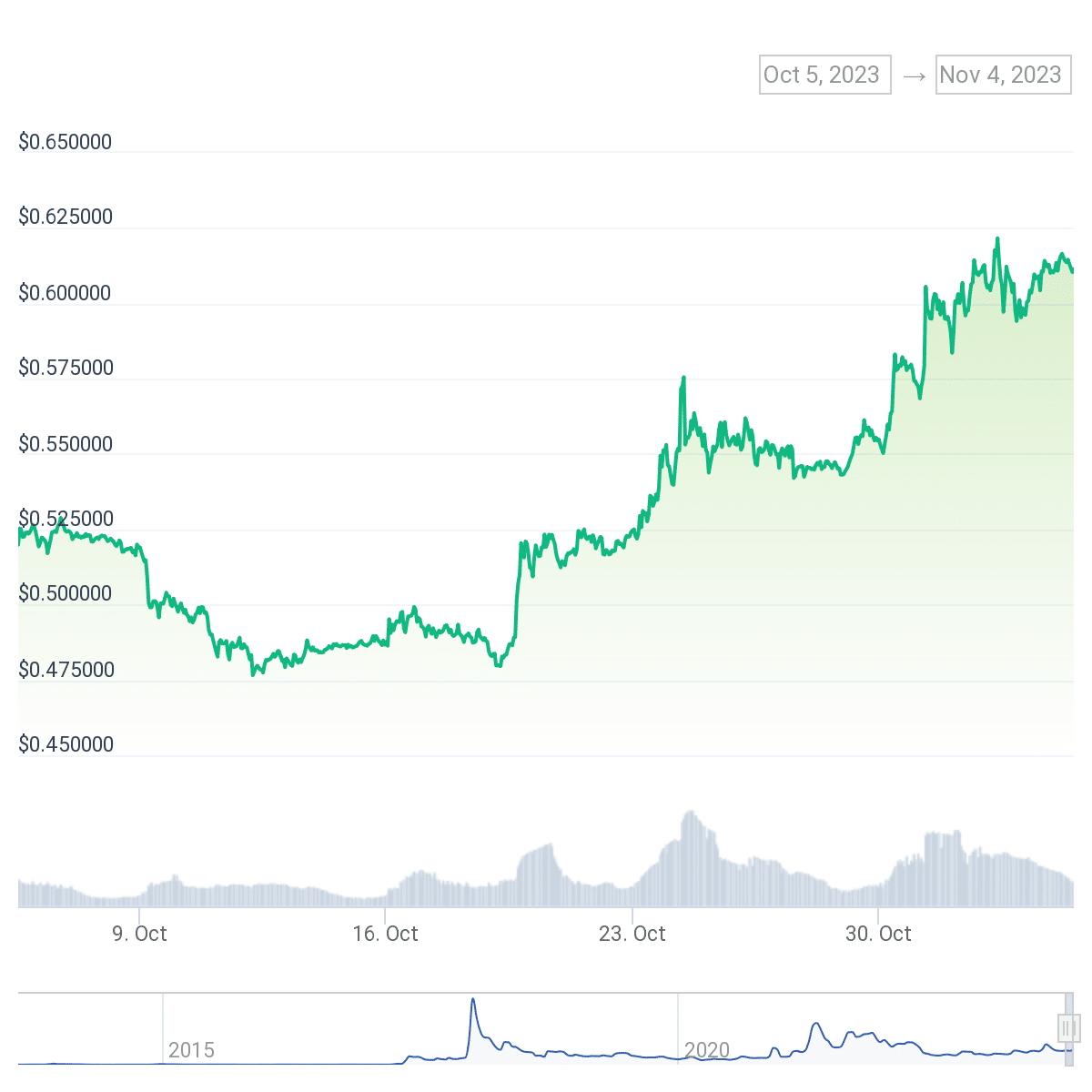 On-chain indicators show a surge in demand for XRP. Key among these indicators is the increase in daily active addresses, which has remained consistently above the 19,500 mark from the end of October through to Nov. 3. 
This brewing interest among traders is underscored by a significant rise in trade volume, registering an increase of 72.84% from 1.51 billion to 2.60 billion between Oct. 31 and Nov. 3.
Whale transactions, valued at $100,000 or higher, soared in November, hinting at incoming volatility in XRP price. 
According to data from Santiment, the number of these transactions has climbed by 106% in November. 
While such activity typically signals profit-taking, the likelihood of a correction in XRP price seems less probable given the multitude of bullish catalysts propelling the asset higher.
This steady rise aligns with Ripple Labs' recent efforts to foster support in the community and an upcoming strategic partnership with the National Bank of Georgia.
Meanwhile, in the Bitcoin (BTC) market, three wallets, possibly owned by the same person, moved 6,500 BTC for the first time in six years. 
The transferred bitcoins are valued at over $230m at the current rate. This transaction happened against the backdrop of a favorable interest rate announcement from the Federal Reserve, which analysts believe has aided Bitcoin's price to climb to $36,000, its highest since May 2022.