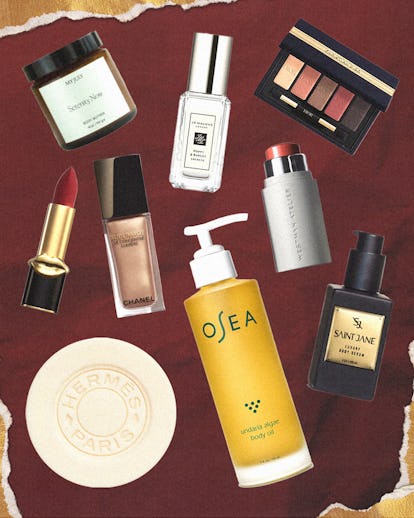 Collage by Ashley Peña
We may receive a portion of sales if you purchase a product through a link in this article.
It's common knowledge that the best time of year to start holiday shopping is during early November. Yes, the day after Thanksgiving and December 26 might be wise times to snag deals, but we've found the first few weeks of this month are when top-tier brands—especially from the beauty world—unveil new products or resurrect classics to up your gifting game. That said, how can you distinguish between an overly pricey set of luxurious lipsticks and a super-cheap lotion that's actually not worth its low price tag in terms of quality? In some cases, you might be getting a deal—but the product comes in half-inch or one-millimeter sample sizes. You're better off giving your friends and family a Starbucks gift card. To steer you in the right direction, we have compiled a list of our favorite reasonably priced and high-quality beauty products. Here are some of the standout gift sets and classic stand-alone products we know will be loved by those who love you—or those you pretend to love for the sake of peaceful family dynamics.