Promise Kept: The plan was not for Mario Beabraut to return to Palm Beach County. The graduate of Santaluces High School and the Florida Culinary Institute was having a foodie moment in California's Bay Area working for star chef Michael Mina's corporate team. In addition to handling offsite catering—including the 30th birthday bash of (now) four-time NBA champion Stephen Curry—Beabraut ran Mina's Tailgate experience prior to San Francisco 49ers games, an epic members-only, all-you-can-eat gourmet feast with everything from butter-poached lobster to an array of savory meats cooked in a state-of-the-art smoker. But when COVID shut things down, and the West Coast became too expensive for Beabraut and his young family, he made the cross-country trek back to South Florida. "Before I left California," Beabraut says, "[Mina] told me that we're not done, that we have finished business." The words proved prophetic.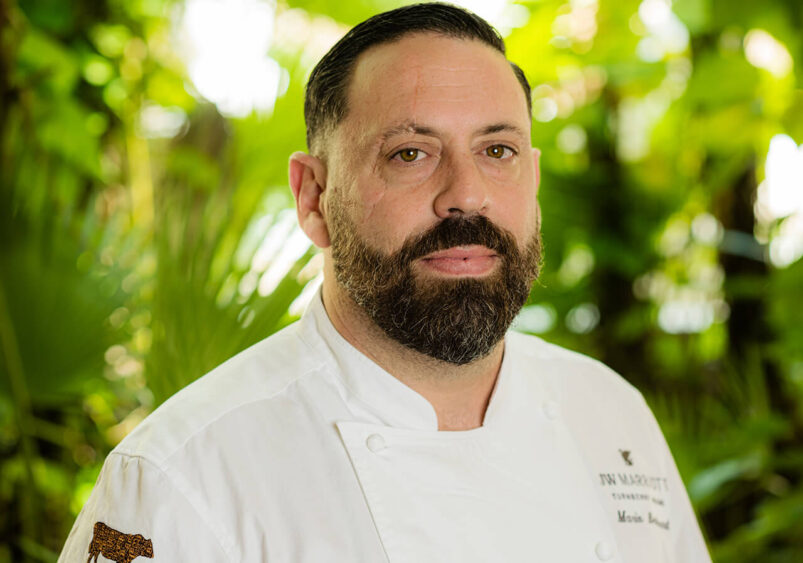 Best Practices: When the executive chef position opened this winter at Bourbon Steak in Aventura—one of seven Bourbon Steaks in the Mina empire—the boss knew who to call. In addition to his time with Mina, Beabraut's kitchen career includes restaurants by Thomas Keller, Daniel Boulud and Gordon Ramsay. "I've purposely taken steps back as a cook just to work different stations with those teams and learn more," Beabraut says. "It's led to a repertoire of [skills and techniques] that now comes naturally." For example, he perfected the potato gnocchi new to the Bourbon Steak menu by making 15 pounds of it a day while working with Angela Hartnett at [since-closed] Cielo in Boca Raton. His version features broccolini two ways (crispy tops and sliced stems that are blanched and picked up in butter) and cipollini onions prepared confit and brûlé (sliced/burned) style. A spicy Calabrian chili pesto stewed with pine nuts and garlic adds the finishing touch.
Salad Days: Another instant classic that Beabraut brought to the menu speaks to his love of crunch. The kale salad utilizes baby kale along with the heartier black kale, which the kitchen slices thin. A thick tahini turmeric dressing lights up the palate with nutty flavoring from the sesame seed paste and acidity from the champagne vinegar and lemon juice. Florida citrus further enlivens the taste, while quinoa and pine nut deliver the crunch. For good measure, bee pollen "ties it all together," Beabraut says. Even diners who've never found kale to their liking are regularly ordering the salad.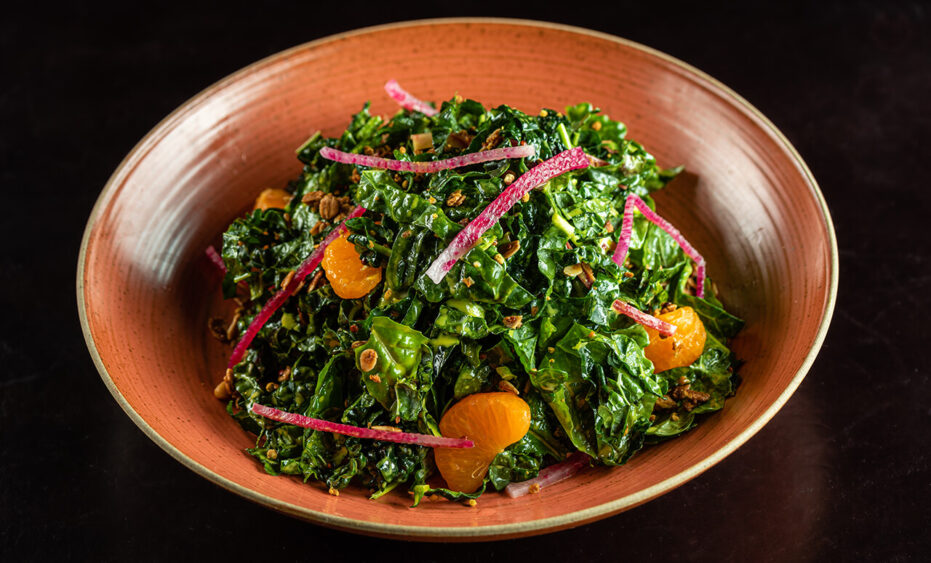 The Beef: Of course, what would any discussion of Bourbon Steak be without referencing the world-class selection of prime cuts (filet mignons, rack of lamb, an 18-ounce Delmonico ribeye, a 40-ounce porterhouse), as well as Japanese and Australian wagyu offerings? Beyond the sourcing, what distinguishes Bourbon Steak is the preparation. Mina's innovative butter-poaching technique—in which the cold meat is slowly tempered before cooking by floating in an immersion circulator filled with an herb-infused butter bath. The treatment leads to a more even sear, a tastier crust and beef that seems to melt in your mouth.
Menu Stars: Other highlights on Beabraut's wonderfully curated menu include short ribs that are grilled before being braised, lending a smoky roasted flavor to the beef. The dish also includes popcorn grits—juice from raw corn is thickened into a pudding consistency, flavored with Parmesan, butter and cream, then fortified with charred corn and blistered shishito peppers. Beabraut is equally excited about the fennel-crusted salmon that's dusted with dehydrated lemons and oranges that are pulverized and mixed with fennel pollen and salt. "I love how the nutty brown butter flavors come together with the fennel and citrus," he says.
Contact: JW Marriott Miami Turnberry Resort & Spa, 19999 W. Country Club Drive, Aventura; 786.279.6600; bourbonsteakmia.com