Crypto assets such as MultiversX (EGLD), Solana (SOL) and Arbitrum (ARB) stood out this week, recording impressive gains, with EGLD witnessing a substantial rally.
MultiversX (EGLD)
MultiversX sits among the top gainers of the week, having rallied by a massive 69.4% over the past seven days. Notably, the asset began the week with consolidation, as it continued to trade underneath the $34 territory but hedged against any drops below $29.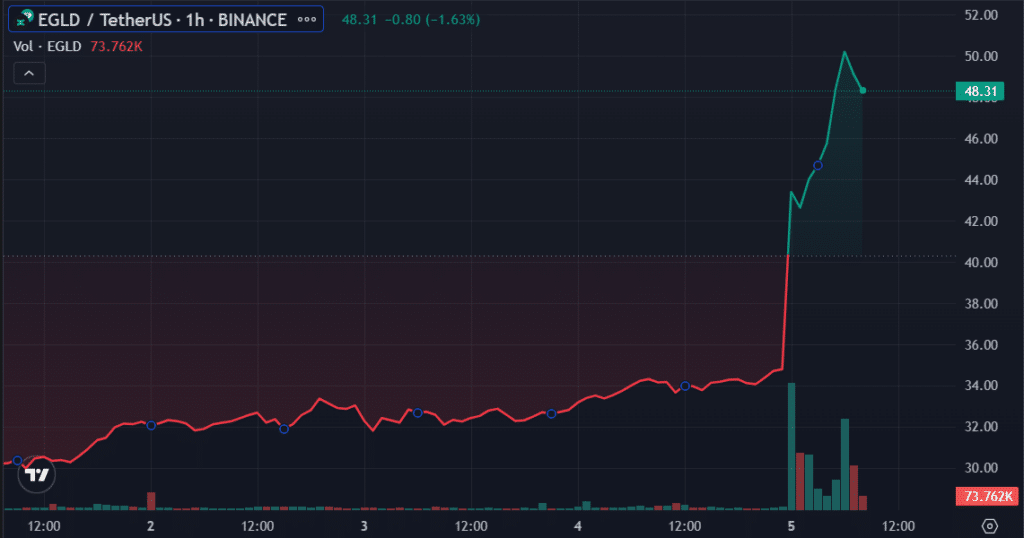 Trade volume surged from $18 million at the start of the week to an average of $28 million as the week progressed. Notably, EGLD's started showing signs of bullish momentum on Nov. 1 amid a favorable market led by Bitcoin (BTC). 
Despite the bullishness, EGLD remained at the mercy of the bears, facing fierce resistance at $35. The asset's momentum picked up today, leading to an impressive breakout of the $35 threshold. EGLD eventually surged to $50 before witnessing a roadblock. The last time the asset saw $50 was in February.
Attempts from the bears to leverage the roadblock for a full-blown correction have failed, as EGLD holds steady above the $45 territory. EGLD currently changes hands at $45.69, up 35.4% over the past 24 hours. Volume has spiked to $698 million, representing a 3,777% increase from the $18 million figure on Oct. 30.
Solana (SOL)
Solana secured a spot among notable assets this week, recording a massive 28.9% increase. Unlike EGLD, Solana's price trajectories this week were rather erratic, characterized by a series of swings and lows.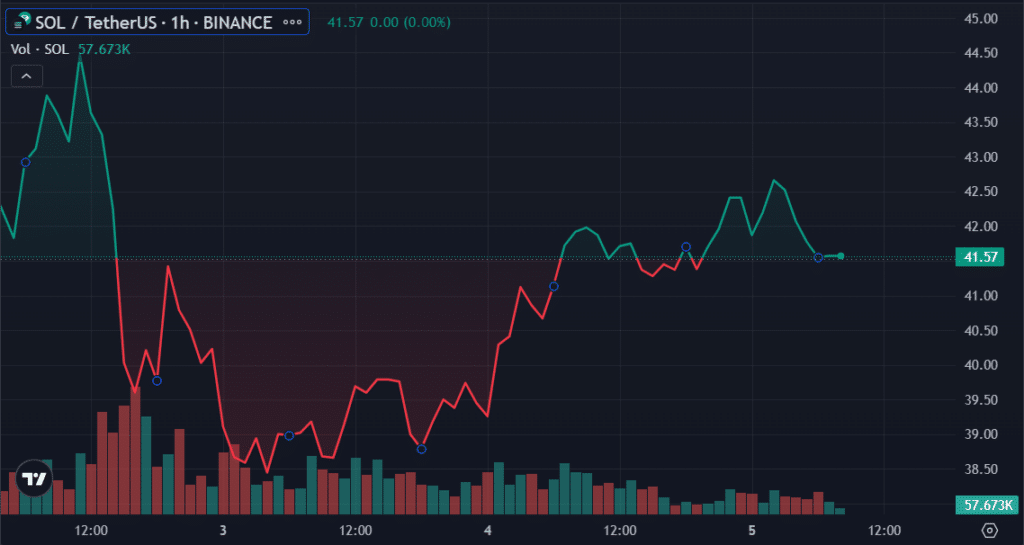 SOL surged to a yearly high of $45.05 on Nov. 1, marking its highest price since May 2022. Following this rally, SOL met stern opposition from the bears, leading to a subsequent price decline. The asset eventually dropped below $40, collapsing to $38.34 two days later.
A comeback saw Solana recover the $40 psychological threshold on Nov. 4. The asset has continued to consolidate since then, but holds firm above $41. Solana's momentum has slowed, with a mere 0.8% gain in the last 24 hours, as it changes hands at $41.78.
Arbitrum (ARB)
Arbitrum started the week below the pivotal $1 point, but its favorable price movements have seen it reclaim the price level. Like Solana, ARB observed several erratic price movements this week, with a battle of supremacy between the bears and bulls taking shape at the start of the week.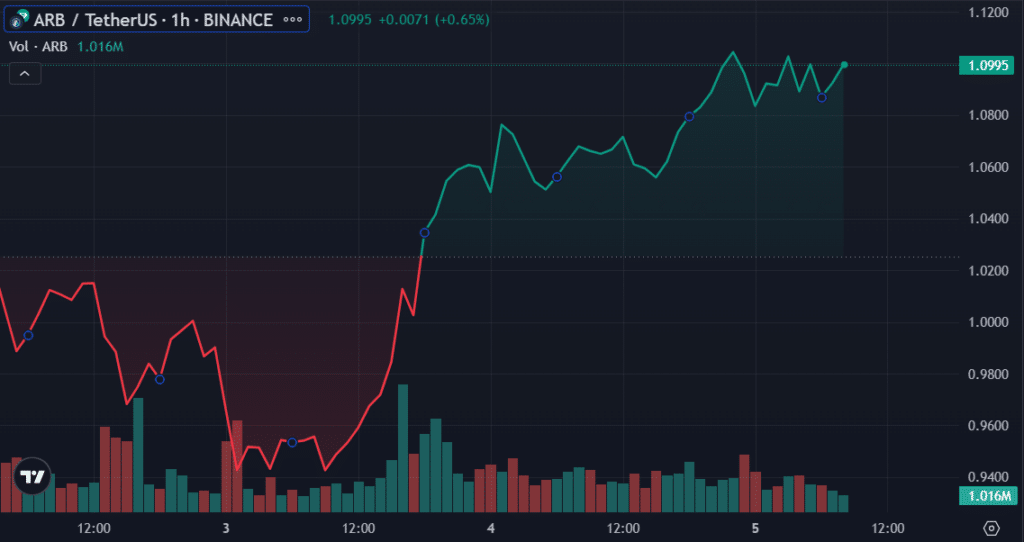 Amid this sustained battle, ARB traded between 93 cents and 97 cents, with each camp unable to exert dominance. The bulls eventually took over on Nov. 1, pushing the asset above the much-coveted $1 level for the first time since August. This victory was short-lived, as ARB corrected these gains two days later, dropping back below $1.
A resurgence of bullish momentum came up shortly after, with the bulls demonstrating more resilience this time. Arbitrum has since then rallied to $1.10, up 19.1% over the last seven days.