[ad_1]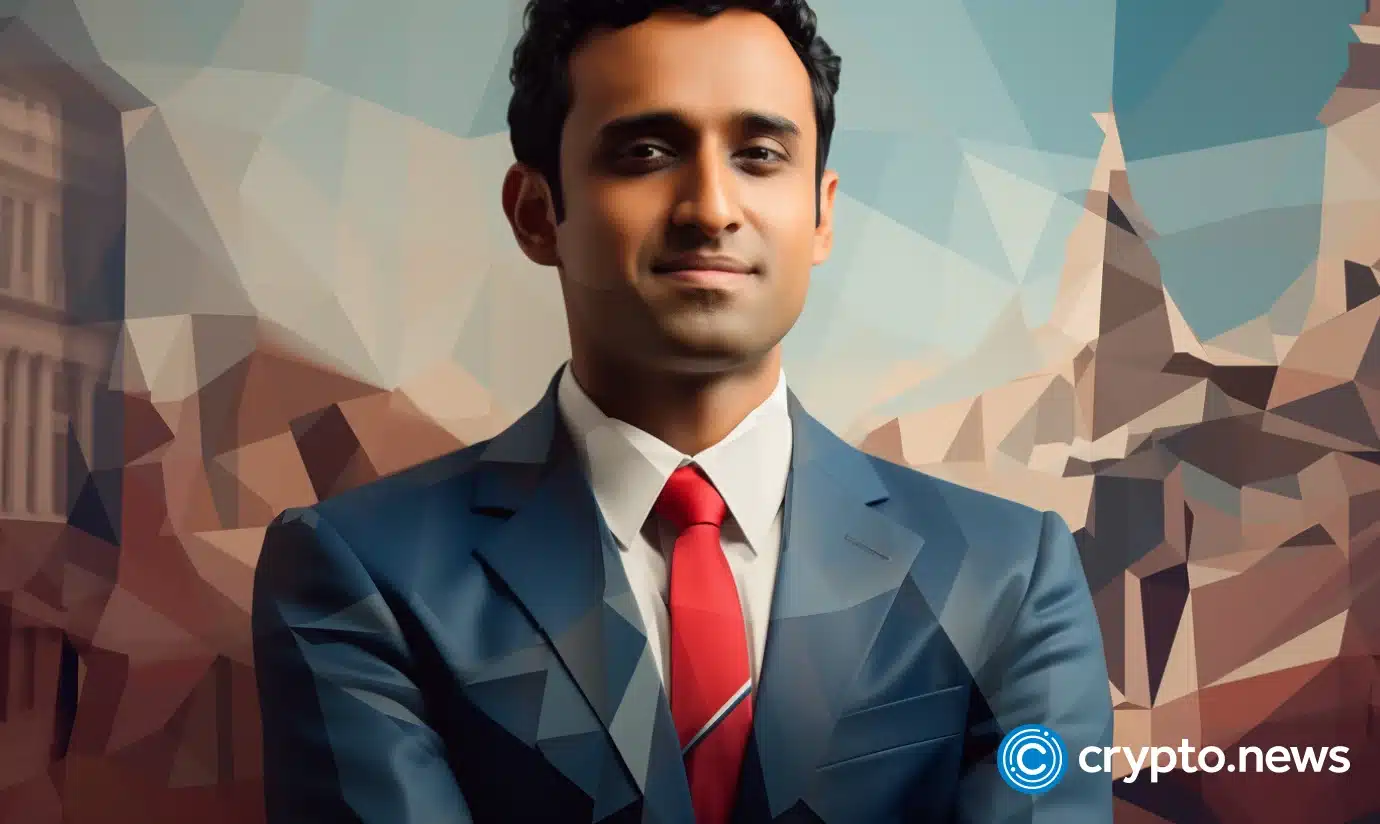 Vivek Ramaswamy, a U.S. Republican presidential candidate, introduced a crypto policy framework designed to safeguard elements of the Web3 space, including non-custodial digital currency wallets.
In a document titled "The Three Freedoms of Crypto," Ramaswamy urged regulators to scale back a significant portion of SEC crypto rules.
The proposed framework, unveiled at the recent North American Blockchain Summit in Fort Worth, Texas, outlines a "safe harbor" exemption policy for newly introduced cryptocurrencies.
This exemption offers regulatory clarity, granting new cryptocurrencies protection from securities laws for a specified period after their launch, and prohibiting any federal agency from establishing rules that would restrict the utilization of self-hosted wallets (crypto wallets not controlled by centralized exchanges).
Ramaswamy, known as the founder of Roivant Sciences, also criticized sanctions on Tornado Cash, pledging to prosecute bad actors rather than the code or its developers. His crypto regulatory framework aims to shrink the federal government dramatically and steer crypto into a clear regulatory structure that generally considers tokens to be commodities, not securities. 
Ramaswamy's policy framework is a response to the current SEC regulations on cryptocurrencies, which he believes are a failure.
He argues that the rules of the road for cryptocurrencies should be clear and that Gary Gensler's SEC should be able to instantly answer whether some widely used cryptocurrency or coin is a security or a commodity
Ramaswamy, so far the only candidate to take a strong stance on the topic of cryptocurrency, believes that regulation by enforcement should essentially end and that the rules should be delineated clearly in advance.
He also wants to put a stop to what he considers unconstitutional regulations that Congress didn't expressly direct federal agencies to have regulatory authority over. 
In his discussion on financial self-reliance, he characterizes the Bank Secrecy Act (BSA) and money laundering statutes in progress through Congress as fundamentally unconstitutional. He explicitly pledged that any regulation affecting self-hosted wallets would cease during his tenure. 
Touching on the freedom to innovate without regulatory overreach, Ramaswamy cited a significant decision by the U.S. Supreme Court in the West Virginia v. EPA (Environmental Protection Agency) case, asserting that the regulatory agency lacks the authority to control greenhouse gas emissions.
He went on to mention that, if he were U.S. President, he would revoke any unconstitutional regulations failing the Supreme Court test in West Virginia v. EPA, and anticipates a 75% reduction in the number of federal bureaucrats.
SEC and crypto 
The U.S. Securities and Exchange Commission (SEC) has been actively involved in regulating cryptocurrencies, in a bid to tackle the unique challenges posed by these digital assets. The SEC's primary goal has been to elevate investor protection, promote stability, and enhance transactional clarity within the rapidly evolving digital financial landscape. 
Recently, the SEC charged Brian Armstrong's Coinbase for its operation as an unregistered securities exchange, broker, and clearing agency. This allegation specifically centered on Coinbase's involvement in an unregistered security offering through its staking-as-a-service program, which the regulator claims deprived investors of substantial protections.
Despite widespread criticism, the SEC claims its engagement in regulating cryptocurrencies serves the purpose of establishing clear distinctions between traditional securities and crypto assets. This clarity is pivotal for providing guidance to entrepreneurs and investors navigating the crypto space, ensuring they understand regulatory boundaries.
The SEC asserts that its regulatory approach is flexible, allowing the agency to tailor its tools to address the unique characteristics and challenges presented by cryptocurrencies. In doing so, the SEC aims to strike a balance between fostering innovation, safeguarding investor interests, and maintaining market stability. 
It's worth noting that the SEC's regulatory approach has serious implications for potential Bitcoin exchange-traded funds (ETFs), as financial giants like Grayscale, BlackRock, Fidelity, and many others are yet to secure approvals.
These hurdles highlight the significant impact of regulatory decisions on key players within the cryptocurrency and financial sectors.
As crypto and Web3 continue to evolve, governments across various jurisdictions are exploring solutions to emerging challenges related to taxing these assets. This endeavor seeks to prevent potential tax revenue leakage and uphold the integrity of the tax system amid the growing adoption of digital currencies.
[ad_2]

Source link